Note: Audio is placed below the main text, when available.
Welcome to F.I.E.L.D.- the First Ismaili Electronic Library and Database.
Aga Khan Museum Toronto Opening Ceremony 2014-09-12
Posted September 13th, 2014 by librarian-hd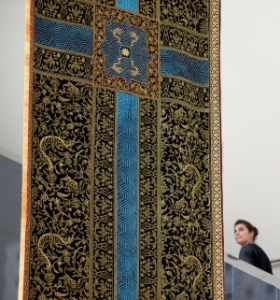 Date:
Friday, 2014, September 12
Toronto set to unveil first museum of Islamic culture in North America
Author: Peter Kuitenbrouwer National Post Canada
Luis Monreal is a ball of energy who speaks quickly and wields a large vocabulary. Born in Spain to a Catalan mother and a Basque father, he is fluent in French, Spanish, English, German, and (he smiles) "some Arabic."
Peter J. Thompson/National Post
Peter J. Thompson/National PostA woman walks past art work made by Pakistan artist Aisha Khalid at the soon to be opened Aga Khan Museum..
The man who runs the Aga Khan Trust for Culture in Geneva is in Toronto, preparing for the opening of the new Aga Khan Museum.
Lighting technicians, carpenters, curators and cleaners bustle through the galleries, scrambling to get everything finished for a press preview Wednesday. The facility, which opens next week, is the first museum of Islamic art in North America.
Mr. Monreal threads his way to a glass box inside which glows a gold disc the size of a tea saucer.
"Now a major piece in the museum is a very small one," he said. "This is an astrolabe, made in Spain in the 14th century — probably made in Toledo, Spain, not Toledo, Ohio! The inscription is in Arabic, Hebrew and Latin."
An astrolabe, he explains, is an astronomical tool, a medieval piece of high technology used for navigation. Not far away sprawls a mamluk, a traditional square fountain of mosaic marble in geometric patterns, made in the 15th century for a home in Cairo.
Then there's a 12th-century Afghan candlestick "for a very big candle." Another case displays white ceramic pots with blue glaze. "These are produced in Syria in the 14th century," said Mr. Monreal.
In a grand hall, workers with a mobile crane have just hung a tapestry pierced in an intricate pattern with 1.2-million pins. The museum commissioned the piece from Aisha Khalid, an artist based in Lahore, Pakistan, who is here supervising the installation.
Syria. Egypt. Afghanistan. Pakistan. These place-names drip with blood in 2014, conjuring images of unrest, protest, bombings and civil war. The Aga Khan Museum, which opens Sept. 18, offers a welcome antidote to these clichés through art that celebrates the rich cultural history of the Islamic world.
Peter J. Thompson/National Post
Peter J. Thompson/National PostA Koran on display at the soon to be opened Aga Khan Museum..
.
The building's architect, Fumihiko Maki of Japan, has used geometric patterns inspired by the great mosques of classical Islam, repeating them in the inlaid
Speech
Posted September 13th, 2014 by librarian-hd
Speech by Mawlana Hazar Imam
At the Opening Ceremony of
The Ismaili Centre, Toronto
Friday, 12 September 2014
Bismillah-ir-Rahman-ir-Rahim
Prime Minister Harper,
Words fail me — and that's not often the case — but words fail me to thank you enough for your most gracious and warm comments on this occasion.
This is indeed a magnificent day.
It is not so often that we have an opportunity of this sort -- to come together in a beautiful setting, in a wonderful spirit of friendship, and to dedicate such a splendid architectural accomplishment.
Posted August 30th, 2017 by librarian-hd
Bismillah-ir-Rahman-ir-Rahim
Prime Minister Harper,
Your Highness, my brother,
Madame Clarkson,
Excellencies,
Ms Shelly Glover, Minister of Canadian Heritage and Official Languages,
Honourable Ministers,
Chancelier de Broglie,
Distinguished Guests,
Ladies and Gentlemen,
Friends,