Note: Audio is placed below the main text, when available.
Welcome to F.I.E.L.D.- the First Ismaili Electronic Library and Database.
THE LIVING SEA: PHOTO-ESSAY BY HUSSAIN AGA KHAN 2020-09-27
Posted September 23rd, 2020 by librarian-hd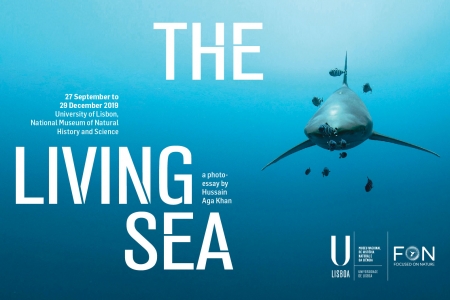 Date:
Thursday, 2020, September 17
Quando:
27 de September de 2019 to 29 de December de 2019
Onde:
Museu Nacional de História Natural e da Ciência
"In my photographs, I let the animals and trees speak for themselves and hope other people see the beauty I see."
Hussain Aga Khan
The exhibition The Living Sea uses the extraordinary photographs of Hussain Aga Khan as a point of departure to raise social awareness towards the sublime beauty, complexity and fragility of life in the oceans. The exhibition is complemented with multiple educational and scientific activities aimed at diverse audiences to stimulate broad conversations about scientific, environmental, and social issues of contemporary global impact, such as the role of the oceans sustaining life on Earth, the climate crisis, nature conservation and species extinction, among others.
Special activities for families and school groups.
Organisation: MUHNAC and Focused on Nature (FON)
Photographer: Hussain Aga Khan
Curators: Xenia Geroulanos, Philippe Mendes, Jorge Prudêncio, Marta Costa
Educational and Cultural Programme: António José Monteiro, Raquel Barata
About Hussain Aga Khan
Hussain Aga Khan was born in Geneva, Switzerland. He received his secondary education at Deerfield Academy, Massachusetts, and graduated from Williams College, Massachusetts, with a dual degree in Theatre and French literature. He earned a master's degree in international affairs from Columbia's School of International and Public Affairs.
Hussain has been an avid tropical fish hobbyist since the age of 5 and a reptile and amphibian enthusiast since he was about 14. At 14, he started SCUBA diving, which further developed his keen interest in nature conservation. He started travelling to the tropics frequently after secondary school and began taking photographs of fauna and flora on a trip to the Brazilian Amazon in 1996. Since then, his photographs have been featured in multiple exhibitions in the USA, France, Switzerland, and Kenya. They have also been published in two books, Animal Voyage in 2004 (a new edition was printed in 2007) and Diving into Wildlife in 2015. Some of Hussain's recent photographs have appeared in National Geographic blogs.
Through the Aga Khan Development Network and the Prince Sadruddin Aga Khan Fund for the Environment, Hussain Aga Khan has been involved with disaster risk reduction, natural resource management, various environmental projects, including tree planting in East Africa and biodiversity preservation in Asia, and some research on climate change and water.
Hussain Aga Khan created Focused on Nature in 2014 to "share his passion and personal mission of conservation, raise awareness and encourage actionable initiatives on global issues negatively impacting the environment".
Learn more about Hussain Aga Khan and Focused on Nature
CULTURAL AND EDUCATIONAL PROGRAM (in update)
DIVE IN THE LIVING SEA
Guided visits every Wednesday, 3 PM. Free entry. Max 20pp.
Meeting Point: MUHNAC-ULisboa Atrium
Ensure your spot signing up through geral@museus.ulisboa.pt
2 OCT | Raquel Barata, MUHNAC- University of Lisbon
9 OCT | António José Monteiro, MUHNAC- University of Lisbon
16 OCT | Fernando Serralheiro, MUHNAC- University of Lisbon
23 OCT | Jorge Prudêncio, Rogério Abreu and Marta Costa, MUHNAC- University of Lisbon
30 OCT | Hussain Aga Khan, FON (visit in English)
6 NOV | Special Visit for Schools with Hussain Aga Khan (visit in English)
13 NOV | Nuno Gusmão, P-06 Atelier
20 NOV | Raquel Barata, MUHNAC- University of Lisbon
27 NOV | Marina Sequeira, ICNF - Institute for Nature Conservation and Forests
4 DEC | Philippe Mendes and Xenia Geroulanos, Exhibition Commissioners
EXPLORE THE SEA IN DEPTH
From June to September 2019, the 60 Minutes of Science cycle of talks dive into the sea, inviting researchers dedicated to ocean exploration and conservation to share their knowledge and experience around simple questions.
Vandelli Room
19 JUN | How much trash is on your beach? Paula Sobral, FCT-NOVA
19 SEP | Sea of (bio) plastics: How can marine bacteria save the day? Rúben Silva, iBB-Technician Bioengineering and Bioscience Institute
Whale Room
17 OCT | Submarine Robotics: How can technology help explore and care for the sea? António Pascoal, Institute of Systems and Robotics, IST- University of Lisbon
21 NOV | Changing Antarctica: will penguins lose their home? José Queirós, MARE-UC & British Antarctic Survey
11 DEC | Special Session - The Living Sea
4:30 pm | CCOceanos-Biotherm Conference: The risk of a shark-free ocean | Moderation by Nysse Arruda, CCOceanos
6:00 pm | Meeting Hussain Aga Khan, Focused on Nature | Questions by Marta Lourenço, MUHNAC-University of Lisbon
CELEBRATE THE SEA
NOV 16 | NATIONAL DAY OF THE SEA
On a day entirely dedicated to the sea, the Museum presents a program of awareness-raising activities aimed at protecting and defending the sea and marine life. 11 AM-6 PM. Free entry.
TAKE ACTION FOR A CLEAN SEA, A LIVING SEA
21 SEP | INTERNATIONAL COASTAL CLEANING DAY | ALGÉS BEACH
09H30 to 13h30 | MUHNAC- University of Lisbon, in partnership with the Brigada do Mar Environmental Association, will promote and coordinate the cleaning of Algés beach. The initiative is aimed at raising awareness towards the impact of waste on marine biodiversity. The collected garbage will be registered on the Ocean Conservancy platform and some will be reused in the 'Living Sea' installation.
NAVIGATE IN THE HISTORY OF THE SEA
6 DEC | SEMINAR SCIENCE AND OCEANS - CROSSING AND DIALOGUING
A Seminar is planned, in partnership with the Institute of Contemporary History - University of Évora, to present and debate research projects related to marine sciences and the history of science.
Exposição temporária
Speech
Posted December 26th, 2020 by librarian-hd
Source:
focusedonnature.org
I would like to ABSOLUTELY thank Marta, who has been amazing and inspiring… encouraging and unbelievably supportive throughout. And for giving me a platform and outreach capacity I never dreamed I might have. It is such an immense honor for me to be here today… And it always feels like so many other people are more deserving, have been doing this for longer and are more technically competent.
Posted December 3rd, 2020 by librarian-hd
Prince Hussain Aga Khan held a beautiful speech on the main stage during EAT Stockholm Food Forum 2019 to bring awareness to the endangered species living in our oceans. Since the age of five, he has been a fan of the ocean and everything connected to it.
At 14, Prince Hussain Aga Khan started scuba diving, and by exploring the deep wide blue he developed a keen interest in conservation. He started traveling to the tropics frequently at secondary school and began taking photographs of fauna and flora on a trip to the Brazilian Amazon in 1996.
Focused On Nature
Recent Articles
Posted September 21st, 2022 by librarian-hd
The Living Sea presents the gaze of two friends: Hussain Aga Khan and Simone Piccoli in the extraordinary diversity of the underwater world of three countries: Tonga, Mexico and Egypt. Both born in 1974, Hussain Aga Khan, photographer, author of books and exhibitions, and Simone Piccoli, director of underwater documentaries, met in November 2014 during a dolphin expedition led by Simone in Sataya, in the Red Sea where gigantic groups swim. of dolphins with a long rostrum and where, nearby, the strange and peaceful dugong can be seen grazing.