Note: Audio is placed below the main text, when available.
Welcome to F.I.E.L.D.- the First Ismaili Electronic Library and Database.
7th Annual Pluralism Lecture held at Lisbon Ismaili Centre 2019-06-11
Posted June 12th, 2019 by librarian-hd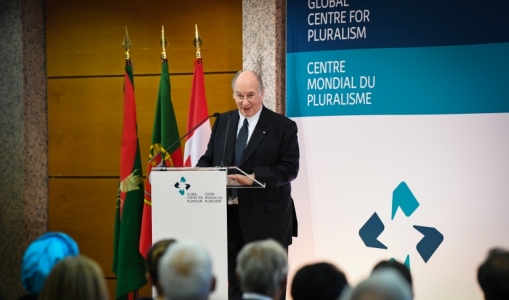 Date:
Tuesday, 2019, June 11
The Annual Pluralism Lecture 2019 will take place on 11 June in Lisbon, where Mawlana Hazar Imam is expected to introduce this year's speaker, Amina J. Mohammed. The event is anticipated to begin at 7:00 PM UTC+1, and will be webcast at the.ismaili/live.
Hosted by the Global Centre for Pluralism, the Annual Pluralism Lecture provides an opportunity to learn from individuals whose work has made a practical difference in the world. The 2019 lecture will explore the connections between pluralism and global efforts to advance peace, justice, and sustainable development.
This year's speaker, Amina J. Mohammed, currently serves as the Deputy Secretary-General of the United Nations (UN). During her time at the UN, she has played an instrumental role in bringing about the 2030 Agenda for Sustainable Development, including the Sustainable Development Goals (SDGs). These goals are a universal call to action to end poverty, protect the planet, and ensure that all people enjoy peace and prosperity.
Ms Mohammed has also served on numerous boards and panels working in the fields of education, women's empowerment, the environment, and international development. She is also an Adjunct Professor in Development Practice at Columbia University.
The Global Centre for Pluralism was created to advance global understanding of pluralism and positive responses to the challenge of living peacefully and productively together in diverse societies. Previous Annual Pluralism Lectures have been held in Ottawa, Toronto, and London; and past speakers have included Roza Otunbayeva, Kofi Annan, António Guterres, Beverley McLachlin, Justice Albie Sachs, and Karen Armstrong.
Speech
Posted June 12th, 2019 by librarian-hd
in
Bismillah-ir-Rahman-ir-Rahim
Ms. Mohammed,
Your Excellency, the President of the Assembly,
Excellencies,
Ladies and Gentlemen,
It is my great pleasure to welcome you, on behalf of the Board of the Global Centre for Pluralism, to the 2019 Pluralism Lecture here at the Ismaili Centre in Lisbon.