Note: Audio is placed below the main text, when available.
Welcome to F.I.E.L.D.- the First Ismaili Electronic Library and Database.
Hazar Imam arrives in Kyrgyzstan for inauguration of University of Central Asia's Naryn campus 2016-10-17
Posted October 18th, 2016 by librarian-hd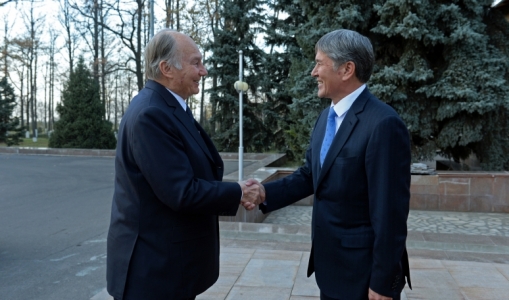 Date:
Monday, 2016, October 17
Photos and Speech are available now on: http://www.ismaili.net/html/modules.php?op=modload&name=phpBB2&file=view...

Bishkek, 17 October 2016 — Mawlana Hazar Imam arrived in Kyrgyzstan this evening, ahead of the inauguration of the University of Central Asia's Naryn campus. He was accompanied by Prince Aly Muhammad.
Her Excellency Elvira Sarieva, Minister of Science and Education received Mawlana Hazar Imam on behalf of the Kyrgyz government. Aga Khan Development Network Resident Representative for Kyrgyzstan Shamsh Kassim-Lakha, who is also the Executive Chairman of the UCA Board Executive Committee, and Dr Mahmoud Eboo, Chairman of the Ismaili Leaders' International Forum, welcomed Hazar Imam on behalf of the institutions and the Jamat.
In a gesture of traditional hospitality, Hazar Imam was presented with an offering of non (bread) by two students from the Aga Khan School in Osh.
As Chancellor of the University of Central Asia, Mawlana Hazar Imam will preside over the inauguration of the first of its three residential campuses in Naryn on Wednesday, 19 October. The ceremony is due to take place at 11:00 AM Kyrgyzstan Time (GMT+6) and will be webcast at TheIsmaili.org/live.
Founded in 2000 by an international treaty between Mawlana Hazar Imam and the Presidents of Tajikistan, the Kyrgyz Republic, and Kazakhstan, the UCA is a secular and private university dedicated to the socio-economic development of Central Asia, and particularly its mountain societies.
The Naryn campus welcomed its first class of 71 undergraduate students in September. They come from Tajikistan, the Kyrgyz Republic, Kazakhstan, Afghanistan and Pakistan. UCA residential campuses in Khorog, Tajikistan and Tekeli, Kazakhstan are anticipated to open in 2017 and 2019 respectively.
theismaili.org
Speech
Posted April 17th, 2022 by librarian-hd
Bismillah-ir-Rahman-ir-Rahim
Your Excellency President Rahmon
Your Excellency President Japarov
Honourable Ministers
Honourable Governors
Chairman Dr Shamsh Kassim-Lakha and Members of the Board of Trustees
Rector, Deans, Faculty and Staff of the University
Parents, supporters, and distinguished guests and Graduates
Posted October 19th, 2016 by librarian-hd
Bismillah-ir-Rahman-ir-Rahim
Your Excellency, Sooronbay Jeenbekov, Prime Minister of the Kyrgyz Republic
Your Excellency, Amanbai Kayipov, Governor of Naryn Oblast
Honourable Ministers, Excellencies,
Students, Faculty and Staff of the University
Distinguished Guests