Note: Audio is placed below the main text, when available.
Welcome to F.I.E.L.D.- the First Ismaili Electronic Library and Database.
Diamond Jubilee Celebrations for Global Jamat in Lisbon, Portugal July 5 to 11, 2018
Posted July 11th, 2018 by librarian-hd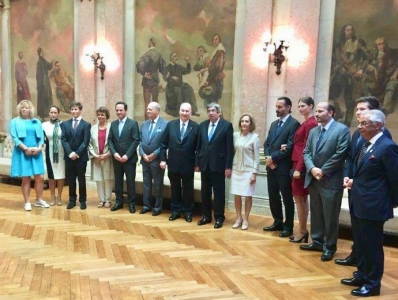 Date:
Wednesday, 2018, July 11
Location:
Lisbon, Portugal
Tens of thousands of Ismailis from all over the world gathered in Lisbon, Portugal for a week of celebrations to commemorate a once in a lifetime event of the Diamond Jubilee of our 49th Holy Imam Mawlana Shah Karim Al-Husayni who is the 5th Imam in our history to celebrate 60 years on the throne of Imamat.
The event was situated in FIL (Feira Internacional De Lisbon) during the week starting July 5th 2018 and reaching the high mark of Holy Deedar on July 11th 2018.
Members of Noorani family also visited the exhibition sites and the performances by various Ismaili artists.
In his address to the Parliament in Portugal on July 10, 2018, Hazar Imam said that "I am told that some 40 thousand members of the Ismaili community have come here this week to share in our Jubilee celebrations."
The President of the Republic of Portugal His Excellency Marcelo Rebelo de Sousa surprised the Darbar gathering and joined Hazar Imam in attending the 2nd phase of the Holy Darbar. The President walked side-by-side with Hazar Imam with Noorani family members and the Mukhi and Kamadia as the Jamat recited salwats. The Presdient then sat next to Hazar Imam on the Darbar stage as the ceremonies took place. He also gave a speech in English to the Jamat.