Note: Audio is placed below the main text, when available.
Welcome to F.I.E.L.D.- the First Ismaili Electronic Library and Database.
His Highness the Aga Khan to visit Canada to celebrate his Diamond Jubilee
Posted April 22nd, 2018 by librarian-hd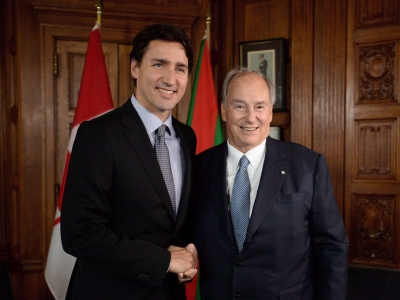 Date:
Friday, 2018, April 20
Canada congratulates His Highness the Aga Khan, on his Diamond Jubilee. The Aga Khan will visit Canada to celebrate this anniversary.
While in Ottawa from May 1 to 4, 2018, His Highness will attend a dinner at Rideau Hall, the official residence of the Governor General. The Aga Khan will then continue his visit to Canada, travelling to other parts of the country, including Vancouver and Calgary.
Canada and the Ismaili Imamat have a long history of partnership with programs around the world that have a positive impact on people's lives. We have worked together on a number of development and humanitarian initiatives that target the world's poorest and most vulnerable, including women and girls.
The Government of Canada and the Aga Khan are also partners in the Global Centre for Pluralism, which champions inclusive and accountable governance, respect for diversity and human rights.
Quick facts
•His Highness the Aga Khan is the 49th hereditary Imam of the Shia Ismaili Muslims, a global, multi-ethnic community whose members comprise a wide diversity of cultures, languages and nationalities, and live in Central Asia, the Middle East, South Asia, sub-Saharan Africa, Europe and North America.
•A devoted humanitarian dedicated to improving quality of life in less-developed regions of the world, His Highness the Aga Khan is the founder and chairman of the Aga Khan Development Network, one of the world's largest private development agencies.
•In recognition of his contributions to human development and improving the condition of societies globally, the Aga Khan has received numerous decorations, honorary degrees and awards, including honorary Canadian citizenship and the Order of Canada. In February 2014, His Highness the Aga Khan was the first faith leader to address a joint session of the Canadian Parliament.
Associated links
• Aga Khan Development Network
• Aga Khan Foundation Canada
• Global Centre for Pluralism
• Commemoration of the Diamond Jubilee of His Highness the Aga Khan
Contacts
Media Relations Office
Global Affairs Canada
343-203-7700
media@international.gc.ca
Follow us on Twitter: @CanadaFP @CanadaDev
Like us on Facebook: Canada's foreign policy - Global Affairs Canada Canada's international development - Global Affairs Canada
Speech
Posted May 1st, 2018 by librarian-hd
Source:
ottawacitizen.com
His Highness the Aga Khan is visiting Canada this month as part of an international celebration of his 60th, or "Diamond Jubilee," anniversary as spiritual leader of the world's Ismaili Muslims. I'll be delighted to join past and present Canadian leaders of all political stripes in celebrations of his remarkable six decades of leadership.