Welcome to F.I.E.L.D.- the First Ismaili Electronic Library and Database.
A "beacon of light": Mawlana Hazar Imam hosted at Rideau Hall during his Diamond Jubilee visi
Posted May 3rd, 2018 by librarian-hd
Date:
Wednesday, 2018, May 2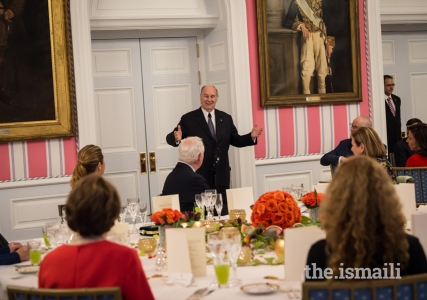 Earlier this evening, Her Excellency the Right Honourable Julie Payette, Governor General of Canada, hosted a dinner at Rideau Hall in honour of Mawlana Hazar Imam's Diamond Jubilee.
Guests included Princess Zahra Aga Khan, Prime Minister Justin Trudeau, past Prime Ministers Jean Chrétien and Joe Clark, and past Governors General David Johnston and Adrienne Clarkson, as well as Jamati and AKDN leaders.
Guests were seated at tables that were thoughtfully named after the various cities across Canada where Ismailis are significant in numbers. Mawlana Hazar Imam's head table, which included the current and former Governors General and Prime Ministers, was named after the city of Burnaby in British Columbia to reflect one of the first major settlement areas of Ismailis.
During her remarks, Governor General Payette acknowledged Mawlana Hazar Imam's leadership and contributions around the world.
"Your Highness, we know, everybody in this crowd knows, that you lead by example, that the work that you've done tirelessly for six decades has been groundbreaking. We know that you are trying very hard to improve the quality of life of people in less fortunate places in the world, and that you promote tolerance and education above all."
Payette, a former astronaut, also recounted an anecdote about a spaceflight in which she saw Mecca, gleaming brightly, and concluded by saying to Mawlana Hazar Imam that it was a beacon of light, "just as you are."
Mawlana Hazar Imam then addressed the guests, expressing his gratitude towards Canada.
"Thank you Canada. Thank you Canada for the advice, the support, the encouragement you've given to our institutions. I see Ismaili leaders from Canada … who are wonderful examples of Canadian knowledge, Canadian wisdom, Canadian comprehension, and who are building on the best of Canadian values. Thank you very much. Thank you."