Note: Audio is placed below the main text, when available.
Welcome to F.I.E.L.D.- the First Ismaili Electronic Library and Database.
Hazar Imam visits Russia 2017-04-19
Posted April 20th, 2017 by librarian-hd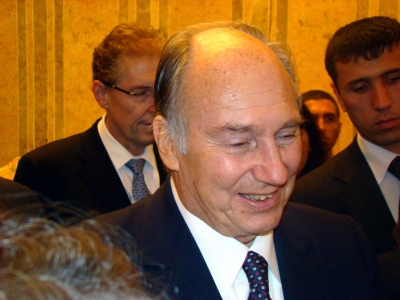 Date:
Wednesday, 2017, April 19
Lavrov discusses int'l issues, Afghanistan with Prince Aga Khan IV
Video on this link: https://youtu.be/efmuf8HlC3k
Moscow, April 20, Interfax - Moscow values its dialogue with Prince Karim Aga Khan IV, the current Imam of Nizari Ismaili Muslims, and expects to discuss different issues, including the problems of Afghanistan, with him, Russian Foreign Minister Sergey Lavrov said.
"We appreciate the assessments that you have outlined to us not only on the Afghan problem, but also on other contemporary problems. Your insightful view of an experienced man is highly important to us," Lavrov said at a meeting with Prince Karim Aga Khan IV.
"We see that you are guided not only by the wish to safeguard the interests of Ismailis, regardless of where they live, but also by the wish to help solve quite dangerous problems that have been accumulating in the international situation for the past ten years," he said.
"We expect to have a useful discussion," he said.
The prince, for his part, said that cooperation with Russia was important as far as the situation in Central Asia was concerned.
Our cooperation is exceedingly important not only for the community of Nizari Ismaili Muslims, but also for Central Asia as a whole, and today the sides are establishing joint institutions that will play an enormous role with regard to developments under way in the whole of Central Asia, he said.
Nizari Ismailis are a branch of the Ismaili Shia Muslims. Their representatives live in India, Syria, Afghanistan, Tajikistan, Iraq, Oman and Zanzibar. Today their community includes 15,000,000 people.
http://www.mid.ru/ru/foreign_policy/news/-/asset_publisher/cKNonkJE02Bw/...
Recent Articles
Posted May 2nd, 2019 by librarian-hd
AKIPRESS.COM - At the invitation of H.E. Rustam Minnikhanov, President of Tatarstan, His Highness the Aga Khan was represented by Dr. Shamsh Kassim-Lakha who led the Aga Khan Development Network (AKDN) delegation to the 11th International Economic Summit in Kazan from 24 to 26 April 2019.
Posted April 22nd, 2017 by librarian-hd
Foreign Minister Sergey Lavrov's opening remarks at talks with Prince Karim Aga Khan IV, Spiritual Leader of the Shia Imami Ismaili Muslim Community, Moscow, April 20, 2017
(translator's words)
Your Majesty the Prince,
We are most happy to welcome you to Moscow. And first of all I had like to take this opportunity to congratulate you on the forthcoming anniversary. The 11th of July 2017 will mark 60th anniversary of your mission as the Spiritual Leader and Imam of the Muslim community of Ismailis Nizari.