Note: Audio is placed below the main text, when available.
Welcome to F.I.E.L.D.- the First Ismaili Electronic Library and Database.
Event - 1995-01-01
Posted June 3rd, 2008 by heritage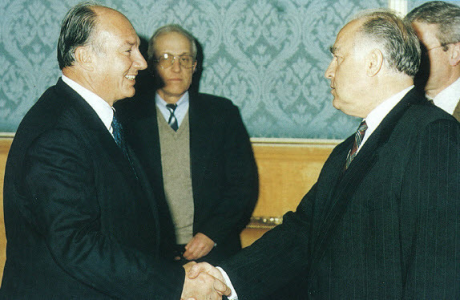 Date:
Sunday, 1995, January 1
Mowlana Hazar Imam visited Moscow as guest of the Russian Government and met with Prime Minister Viktor Chernomyrdin. Held meetings with officials at the highest levels of federal and local governments. Visited both houses of the Russian Parliament, the Federation Council and the State Duma , and from the City Hall to the Kremlin. Hazar Imam also met with senior diplomats, religious leaders, academicians and representatives of the Russian and international Press.
Recent Articles
Posted March 24th, 2010 by heritage
At the invitation of the Government of Russia, His Highness the Aga Khan, Imam of the Ismaili Muslims, will today begin an official visit to Moscow.
During the five-day visit, based on an invitation extended last year, the Aga Khan will meet with senior Russian leaders, including his host, Foreign Minister Andrei Kozirev. He will also meet with members of the Ismaili community in Moscow.
This is the Aga Khan's first visit to Russia.