Note: Audio is placed below the main text, when available.
Welcome to F.I.E.L.D.- the First Ismaili Electronic Library and Database.
Protocol between The Ismaili Imamate and Portugal 2015-06-03
Posted June 2nd, 2015 by librarian-umed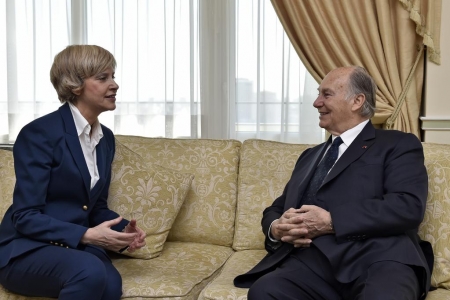 Date:
Wednesday, 2015, June 3
Photo Theismaili.org
H.H. The Aga Khan has arrived in Lisbon, Portugal and was welcomed at the airport by Mnister was received by Pedro Mota Soares of the Government of Portugal. According to news received from Portugal newspapers, H.H. The Aga Khan, Imam of the Ismailis, will be moving some of his institutions in Portugal where he may also build a residence. H.H. The Aga Khan is expected in the Country this week and more news will be posted in this section starting today.
H.H. The Aga Khan is expected to make large investments in Portugal in the next 5 years.
Photo: The AgaKhan meets with Assunção Esteves, President of the Assembly of the Republic of Portugal earlier today.
Albums for Protocol between The Ismaili Imamate and Portugal 2015-06-03
Interview
Posted August 1st, 2018 by librarian-hd
Source:
http://www.mmclip.com/Pdftmp/24457595_3_2007_mediamonitor.pdf
AGA KHAN
The descendant of Prophet Muhammad celebrated in Lisbon, the 60 years as leader of the Ismailis. An exclusive interview with the wealthiest spiritual leader in the world
By Alexandra Carita
Photographs by Tiago Miranda
[Interview]
"This is a faith of reason"
Press Release
Posted May 12th, 2016 by librarian-hd
Lisbon, Portugal, 12 May 2016 – His Highness the Aga Khan is in Portugal for his first visit since a landmark agreement establishing the global Seat of the Ismaili Imamat in Portugal came into effect.
Yesterday, the Aga Khan – Imam (leader) of the Shia Ismaili Muslims and founder and Chairman of the Aga Khan Development Network (AKDN) – met with Foreign Affairs Minister Augusto Santos Silva before meeting with the President of the Portuguese Republic, His Excellency Marcelo Rebelo de Sousa, who also hosted a private dinner in his honour.