Note: Audio is placed below the main text, when available.
Welcome to F.I.E.L.D.- the First Ismaili Electronic Library and Database.
Aga Khan on a 12-day visit of India 2013-09-17
Posted September 18th, 2013 by librarian-hd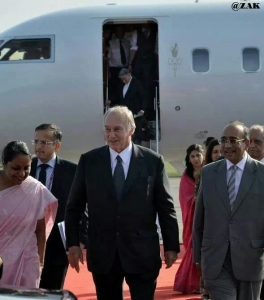 Date:
Tuesday, 2013, September 17
Press Trust of India New Delhi
Aga Khan, the chairman of Aga Khan Development network, arrived here today on a 12-day India visit during which he will meet President Pranab Mukherjee, Prime Minister Manmohan Singh and Vice President Hamid Ansari.
Khan would preside over an inauguration ceremony to mark the completion of the restoration of Humayun's Tomb Heritage site tomorrow.
The restoration work at the heritage site has been carried out by the Aga Khan Trust.
In addition to these engagements, he will be visiting the cities of Hyderabad and Mumbai, where Aga Khan Development Network is involved in various projects.
Speech
Posted June 20th, 2015 by librarian-hd
Source:
theismaili.org video
September 28, 2013
(Hazar Imam was presented a gift from the Indian Jamat of a late 18th century bronze incense burner of the Moghul period )
President and Leaders of the Jamat,
Posted October 14th, 2013 by librarian-hd
Bismillah-ir-Rahman-ir-Rahim
Your Excellency, Chief Minister of Andhra Pradesh, Shri Kiran Kumar Reddy
Your Excellency, Honourable Union Minister for Human Resources Development, Dr Pallam Raju
Honourable Ministers
Distinguished Guests
Staff and students of the Aga Khan Academies in Mombasa and in Mozambique
Ladies and Gentlemen
It is great joy for me to welcome you on this wonderful occasion. And I want to begin these comments by thanking the Chief Minister for his and his government's support to the creation of this institution.
Posted October 14th, 2013 by librarian-hd
Bismillah-ir-Rahman-ir-Rahim
Your Excellency Prime Minister Manmohan Singh
Minister for Culture Shrimati Chandresh Kumari Katoch
Mr. Ratan Tata
Honorable Ministers, Excellencies
Distinguished Guests
Ladies and Gentlemen
Let me first extend my special thanks to the Prime Minister, whose presence honours all of us.
Interview
Posted October 8th, 2013 by librarian-hd
This week we travel to outskirts of Hyderabad to interview His Highness The Aga Khan, spiritual leader of the Ismaili Community and Founder and Chairman of The Aga Khan Development Network. He speaks about how he bridges the east and the west and brings different communities together. He says that the modern world suffers from ignorance rather than civilization. He also speaks about how his academy is devoid of caste, religion and sect. And about how his life changed after the World Trade Centre plane crash in 2001.