Note: Audio is placed below the main text, when available.
Welcome to F.I.E.L.D.- the First Ismaili Electronic Library and Database.
Aga Khan Visits Officials in Edmonton, Canada - 2009-06-07 to 09
Posted June 10th, 2009 by heritage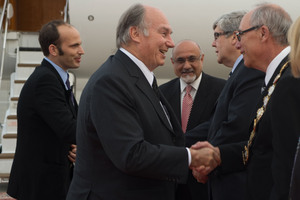 Date:
Sunday, 2009, June 7
-
Tuesday, 2009, June 9
H.H. The Aga Khan is in Edmonton, Canada for a 3 day visit, accompanied by His son, Prince Hussain. During his visit, the Aga Khan met with Premier Ed Stelmach and University of Alberta President, Dr. Indira Samarasekera. He also witnessed the signing of an agreement to enhance collaboration with the University of Alberta.
Albums for Aga Khan Visits Officials in Edmonton, Canada - 2009-06-07 to 09
Speech
Posted June 23rd, 2009 by heritage
Bismillah-ir-Rahman-ir-Rahim
Eminent Chancellor
Madame President
Mr. Chairman of the Board
Your Worship the Mayor
Faculty, Graduates, Friends and Family
Interview
Posted June 25th, 2009 by heritage
When the Aga Khan stepped onto the University of Alberta campus Tuesday to speak to graduates, he brought a message of ethics, citizenship and respect for diversity.
Addressing a "knowledge deficit" in these areas is essential for pushing global development in the right direction, he told graduates, noting his Aga Khan Development Network has made such virtues a key part of its educational mission.
In an interview with The Journal's Keith Gerein, he expanded upon his remarks, sharing his views on the way forward both for political leaders and ordinary citizens.
Press Release
Posted June 23rd, 2009 by heritage
9 June, 2009, Edmonton, Canada - The University of Alberta and the Aga Khan University today signed a memorandum of understanding that advances their respective goals to increase global engagement and to promote equitable human advancement and social justice throughout the world.