Welcome to F.I.E.L.D.- the First Ismaili Electronic Library and Database.
Aga Khan receives honorary degree from University of Alberta - 2009-06-09
Posted June 10th, 2009 by heritage
Date:
Tuesday, 2009, June 9
Location:
University of Alberta
Source:
edmontonjournal.com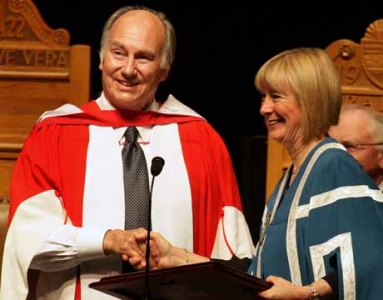 EDMONTON — The Aga Khan signed a memorandum of understanding Tuesday during a visit to Edmonton that will strengthen ties with the University of Alberta.
The spiritual leader of the Shia Ismali Muslims was in town to deliver the convocation, as well as receive an honorary doctor of laws.
Tuesday's memorandum of understanding builds on a collaboraton between the U of A and the Aga Khan University first signed almost exactly three years ago.
As a result of that agreement, faculty and staff from the AKU School of Nursing and the Aga Khan University Hospital in Nairobi, Kenya, recently completed graduate programs here in interventional cardiology, breast conservation surgery and physiotherapy.
"The expansion of this partnership puts the University of Alberta at the forefront of international capacity building," said Alberta Premier Ed Stelmach at the signing ceremony.
"The Aga Khan Development Network's extensive reputation in economic, social and cultural development allows the university to harness Alberta's research and teaching innovation to benefit communities not only in Alberta, but also in East Africa, and Central and South Asia."
Some areas identified for immediate collaboration include health sciences education, biodiversity conservation and sustainable land use programs, with emphasis on mountain environments and semi-arid regions with the University of Central Asia.