Welcome to F.I.E.L.D.- the First Ismaili Electronic Library and Database.
Princess Zahra presented with Huffington Award by Asia Society Texas Center
Posted October 12th, 2019 by librarian-hd
in
Date:
Thursday, 2019, October 10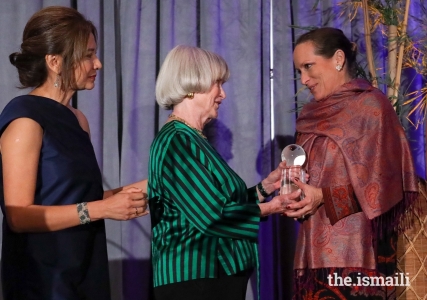 On 10 October 2019, Princess Zahra, accompanied by her daughter, Miss Sara Boyden, was honoured with the Asia Society Texas Center's Huffington Award in Houston, USA. Princess Zahra was honoured for her outstanding contributions that have furthered international understanding, uplifted lives, and advanced health and education through her work with the Aga Khan Development Network.
The Huffington Award is the highest honour bestowed by the Texas Center, and recognises leaders who are a major force on the international stage. The award is named after former Ambassador Roy M. Huffington, who co-founded the Asia Society Texas Center in 1979 alongside former First Lady Barbara Bush. Past recipients of this prestigious award include President George H.W. Bush and former Secretary of State James A. Baker III.
"We were so humbled to honour Princess Zahra, and it was an inspiration to hear about the many projects in healthcare and education that she and the Aga Khan Development Network have spearheaded globally," said Bonna Kol, President of the Asia Society Texas Center. "Through her work, Princess Zahra is building hope and trust in a world where both are greatly needed."
The award dinner began with opening remarks by Y. Ping Sun, Asia Society Texas Center's Vice Chair and First Lady of Rice University, and Bonna Kol, President of the Asia Society Texas Center. The event included a musical performance by the Master Musicians of the Aga Khan Music Initiative, Homayoun Sakhi and Abbos Kosimov, who were joined by the acclaimed tabla player Nitin Mitta.
President of Rice University and past award recipient, David W. Leebron, introduced a short film that highlighted Princess Zahra's many accomplishments; including her tireless work to uphold human dignity, develop future leaders, and spearhead health and education initiatives in more than 30 countries around the world.
Mr Leebron then engaged in an on-stage conversation with Princess Zahra, during which they discussed the impacts and motivations of AKDN's work. "I'm a very small link in an extremely long chain of people and institutions all working towards realising a vision which is basically my father's vision, His Highness' vision; and yes, it is based on the principles of Islam, but also the principles of most faiths - generosity, kindness, understanding, the spirit of volunteerism, improving the quality of life of one's neighbours and fellow man," said Princess Zahra.
They went on to speak about a number of topics, including healthcare, economic opportunity, and the positive results of a focus on girls' education over the past century.
"There has always been this ethos of putting a lot of emphasis on the role of women in society and giving those women the tools and the wherewithal to be educated mothers and leaders of their societies, and I think just looking around us today the impact of that is very clear."
Princess Zahra also discussed the ethic of volunteerism, saying, "the Ismaili community has always been incredibly generous and incredibly engaged in volunteering… In the AKDN there are as many volunteers as there are professional staff. I think that they are all people who have grown up from their parents and are giving onto their children this ethic, the importance of giving time and giving of oneself."
In a conversation on the topic of education, Princess Zahra spoke of how a liberal arts education helps to encourage the development of values, saying, "It is not learning what to think, but learning how to think, and I think that's what our education activities seek to instil… a spirit of inquiry and those values which are the basic human values of pluralism and understanding that makes the quality of life of one's neighbour better than it is today."
When asked about the future of our society, Princess Zahra noted "I think we are living at a time and acting at a time where there is optimism. There are things that are happening in our world in medicine, communications, and technology, which are going to have such profound impacts on not only the way we live as human beings but on the way that we interact and we learn."
As a mark of great respect, proclamations were received from congressional leadership, the City of Sugar Land, and Mayor Sylvester Turner of the City of Houston. Mayor Turner proclaimed 10 October 2019 as Princess Zahra Aga Khan Day.
see video