Note: Audio is placed below the main text, when available.
Welcome to F.I.E.L.D.- the First Ismaili Electronic Library and Database.
Hazar Imam visits the United Kingdom for Diamond Jubilee 2018-06-26
Posted June 28th, 2018 by librarian-hd
in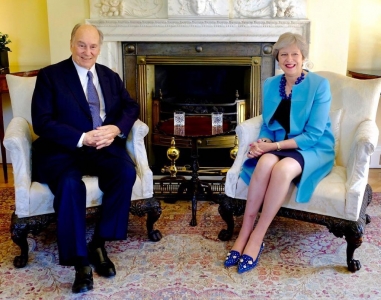 Date:
Tuesday, 2018, June 26
Hazar Imam arrived in the United Kingdom of Great Britain on July 26, 2018 to start His Diamond Jubilee visit to grant Holy Deedar to Murids and inaugurate the Aga Khan Centre at King's Cross, London.
Hazar Imam gave Mulaquats to the Jamat at the Darkhana in London at South Kensington
Hazar Imam also visited 10 Downing Street to meet the Prime Minister Theresa May on Thursday June 28 2018
She congratulated him on his longstanding leadership of the Ismaili community and on his visit to the UK as part of his Diamond Jubilee tour.
The Prime Minister thanked His Highness the Aga Khan for his foundation's activities around the world to improve understanding of Islam as a peaceful and tolerant religion. She also thanked him for his support of the UK government's agendas on integration and improving understanding of Muslim cultures.
The Prime Minister welcomed the educational and cultural contribution to the UK made by the Aga Khan's institutions, demonstrated by the new Aga Khan Centre in King's Cross. She also commended the vital work being done between the Department for International Development and the Aga Khan Foundation to deliver girls' educational programmes in Central Asia, Tanzania and Afghanistan.
Finally, the Prime Minister reaffirmed the UK government's commitment to freedom of religion or belief as a fundamental right, and confirmed her interest in working with His Highness the Aga Khan and other faith leaders to promote better respect, collaboration and tolerance between religious communities internationally.
Recent Articles
Posted July 23rd, 2019 by librarian-hd
in
AN ASIAN businessman has been appointed the president of His Highness Prince Aga Khan Shia Imami Ismaili Council for the UK.
Naushad Jivraj took over the role on July 11 and will serve a three-year term.
Jivraj is the CEO of Queensway Group, a family business founded in the 1970s with interests in the real estate and franchise sectors.
The company are franchisees of the Starbucks brand in the UK with 14 stores and the KFC brand in Austria and Slovakia where they operate 10 stores.