Note: Audio is placed below the main text, when available.
Welcome to F.I.E.L.D.- the First Ismaili Electronic Library and Database.
Aga Khan Centre opened in London at King's Cross 2018-06-26
Posted June 26th, 2018 by librarian-hd
in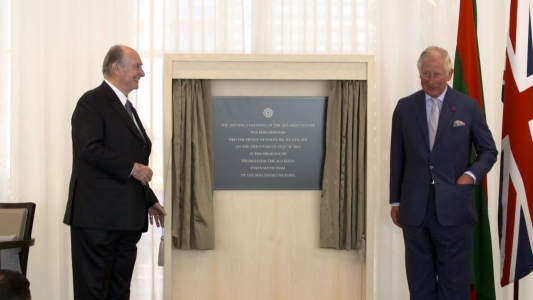 Date:
Tuesday, 2018, June 26
Location:
london, England
Hazar Imam today opened the Aga Khan Centre in London, England. The Prince of Wales Prince Charles also joined Hazar Imam in the opening of this historic centre which be the headquarters of various Aga Khan Institutions in the U.K.
The Aga Khan Centre in King's Cross, designed by Japanese architect Fumihiko Maki, will have six landscaped open spaces inspired by different Muslim cultures from around the world.
There will also be four other havens of calm surrounding the ten-storey building, in what is the heart of one of London's biggest regeneration districts.
Today's inauguration was attended by Prince Shah Karim Al Hussaini, also known as Aga Khan, the spiritual leader of the Shia Ismaili Muslims and London Mayor Sadiq Khan.
The white limestone building will house The Institute of Ismaili Studies, the Aga Khan University Institute for the Study of Muslim Civilisations, and the Aga Khan Foundation UK.
The aim is to promote greater understanding of muslim cultures. Matt Reed, chief executive of the Aga Khan Foundation UK, said the gardens were a core feature of the design.
Mr Reed said: "He thought of them as an entry point into discovering and understanding the history and cultures of the Muslim world as well as making new public spaces for London."
Islamic gardens are traditionally divided into four parts by water channels or walkways, reflecting the four gardens of paradise from the Qur'an.
The six gardens at the Aga Khan Centre include a covered "loggia" with a central fountain; a terrace inspired by the cloisters of southern Spain, Morocco and Egypt; a "courtyard of harmony" reminiscent of an "iwan" (a three-sided outdoor room found in the Middle East and Central Asia); a rooftop space based on the gardens of the Mughal empire; a "terrace of discovery" inspired by a Persian throne known as a "talar", and a "garden of light".
The spaces, collectively known as the "Islamic Gardens at King's Cross" will be open for public tours from September 22, as well as annual events such as Open House London every autumn.
Speech
Posted June 27th, 2018 by librarian-hd
in
Bismillah-ir-Rahman-ir-Rahim
Your Royal Highness,
Lord Ahmad, Foreign Office Minister, Mr Sadiq Khan, Mayor of London,
The leadership of Camden,
Your Excellencies,
Ladies and Gentlemen
What a pleasure it is to welcome you to this celebration!
We celebrate today a beautiful new architectural accomplishment. As we do so, we also honor those who have made this Centre possible - and the values that have inspired their work.
Recent Articles
Posted November 16th, 2019 by librarian-hd
LONDON - In her first solo British exhibition, "At the Corner of a Dream," Egyptian activist Bahia Shehab voiced powerful messages on a variety of themes presented through five short videos reflecting on Arab revolts.
The videos showcased at London's Aga Khan Centre are digital artworks produced this year. They follow on the poetry murals inspired by Palestinian poet Mahmoud Darwish that Shehab painted in Cairo, New York, Beirut and Marrakech, as well as the Greek island of Kefalonia.
Posted June 26th, 2018 by librarian-hd
in
Source:
www.urdupoint.com
LONDON, (UrduPoint / Pakistan Point News, app - 27th Jun, 2018 ) :The United Kingdom (UK) here on Tuesday welcomed High Highness Prince Karim Agha Khan for the opening of new academic center in London.
According to a UK government statement issued here, Foreign Office Minister for Human Rights Lord Tariq Ahmad of Wimbledon attended the official opening of the new Aga Khan Centre in King's Cross today (26 June) as part of the Diamond Jubilee tour of His Highness the Aga Khan.