Note: Audio is placed below the main text, when available.
Welcome to F.I.E.L.D.- the First Ismaili Electronic Library and Database.
Visit of His Highness Prince Karim Aga Khan (February 20 – March 01, 2018)
Posted February 20th, 2018 by librarian-hd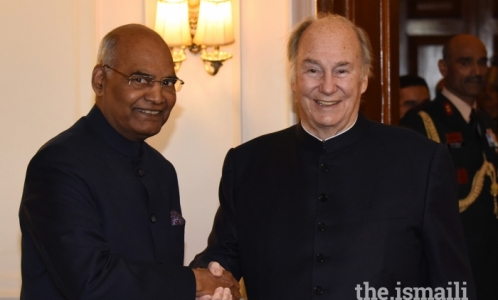 Date:
Tuesday, 2018, February 20
VISIT OF HIS HIGHNESS PRINCE KARIM AGA KHAN (20th February – 01st March, 2018)
Tuesday, February 20, 2018
2015 hrs
Arrive Delhi
Venue: AFS Palam
Photo Op: AV Media
Wednesday, February 21, 2018
1230 hrs
Meeting with the Vice President
Venue: Hyderabad House
Photo Op: Agencies Only
1615 hrs
Opening of Sunder Nursery
Venue: Hazrat Nizamuddin, Near Humanyu's Tomb
Contact -Aga Khan Foundation
1830 hrs
Meeting with the Prime Minister
Venue: 7, Lok Kalyan Marg
Thursday, February 22, 2018
1115 hrs
Call on the President
Venue: Rashtrapati Bhawan
Photo Op: Agencies Only
1510 hrs
Emplane for Ahmedabad
1630 hrs
Arrive Ahmedabad
Venue: Sardar Vallabhbhai Patel International Airport
1730 hrs
Meeting with Shri Om Prakash Kohli, Governor of Gujarat
Venue: Raj Bhawan, Gandhinagar
1810 hrs
Meeting with Shri Vijay Rupani, Chief Minister of Gujarat
Friday, February 23 – Sunday, February 25, 2018
Programme in Gujarat
Monday, February 26, 2018
1310 hrs
Emplane for Hyderabad
1440 hrs
Arrive Rajiv Gandhi International Airport
Tuesday, February 27, 2018
1100 hrs
Meeting with Shri ESL Narasimhan, Governor of Telangana and Andhra Pradesh
Venue: Raj Bhavan
1230 hrs (TBC)
Meeting with Shri Mohammed Mahmood Ali, Deputy Chief Minister of Telangana
Venue: Hotel Taj Falaknuma Palace
Programme in Hyderabad
Wednesday, February 28, 2018
1315 hrs
Emplane for Mumbai
1425
Arrive Mumbai
Venue: Chhatrapati Shivaji International Airport
Thursday, March 01, 2018
1000 hrs (TBC)
Meeting with Shri Devendra Fadnavis, Chief Minister of Maharashtra
1055 hrs
Meeting with Shri Chennamaneni Vidyasagar Rao, Governor of Maharashtra
Venue: Arrive Raj Bhawan
Programme in Maharashtra
1800 hrs
Emplane
Please note:
Media to arrive 45 minutes before each event.
Access restricted to holders of PIB card only unless otherwise specified
Speech
Posted February 22nd, 2018 by librarian-hd
Bismillah-ir-Rahman-ir-Rahim
Honourable Vice President of India
Lieutenant Governor of the National Capital of Delhi
Honourable Minister of State for Parliamentary Affairs
Secretary, Ministry of Housing and Urban Affairs
Excellencies
Distinguished Guests
I am deeply honoured - and so very happy - to share with you in today's ceremony. I have followed the Sunder Nursery project with keen interest for many years – going back at least to the year 2000, when the Aga Khan Trust for Culture first undertook the restoration of the Gardens of Humayun's Tomb, just next door.