Welcome to F.I.E.L.D.- the First Ismaili Electronic Library and Database.
Prince Karim Aga Khan calls on AP & Telangana Governor
Posted February 27th, 2018 by librarian-hd
Date:
Monday, 2018, February 26
Source:
www.outlookindia.com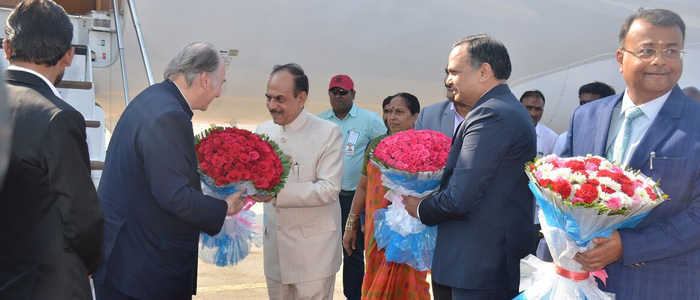 Hyderabad, Feb 27 Spiritual leader Prince Karim Aga Khan today met Andhra Pradesh and Telangana Governor E S L Narasimhan here and discussed activities of the Aga Khan Development Network (AKDN) and its associate agencies in the two states.
The Aga Khan informed the Governor about the plans to launch various philanthropic activities in AP and Telangana in the next five years, said a media release issued by the Raj Bhavan.
"His Highness the Aga Khan informed the Governor that their agencies have plans for launching various development programmes in the states of Telananga and Andhra Pradesh in the next five years," it said.
The Governor appreciated the programmes being implemented by the AKDN, particularly in the fields of education, healthcare and also the restoration of Qutb Shahi Tombs in the city, it said.
Narasimhan assured full cooperation by the two state governments to the activities of the Aga Khan agencies, it said.
The Governor drew the attention of the visiting dignitary "to the wisdom of ancient philosophers and thinkers of the country and their precise astronomical prediction of eclipses etc," it said.
The spiritual leader also informed the Governor that in the countries of Asia and Africa more emphasis is laid on education in the fields of science, technology, engineering and management.
"His Highness the Aga Khan referred to the speech by Robot Sophia at the World Economic Forum held at Davos in January 2018 and the way she participated in the question and answer session and on how human relations are undergoing a dramatic change," the release added.
Aga Khan, who is on a 10-day visit to India, arrived here yesterday and visited Qutb Shahi Tombs.