Note: Audio is placed below the main text, when available.
Welcome to F.I.E.L.D.- the First Ismaili Electronic Library and Database.
Hazar Imam arrives in Dubai for the 2014-2016 Cycle of the Awards for Architecture 2016-11-04
Posted November 5th, 2016 by librarian-hd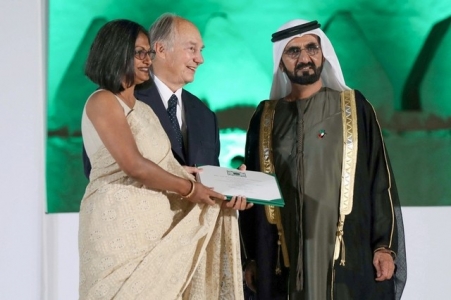 Date:
Friday, 2016, November 4
The Aga Khan Award for Architecture is given every three years to projects that set new standards of excellence in architecture, planning practices, historic preservation and landscape architecture. Through its efforts, the Award seeks to identify and encourage building concepts that successfully address the needs and aspirations of societies across the world, in which Muslims have a significant presence. (akdn.org)
Speech
Posted November 7th, 2016 by librarian-hd
Bismillah-ir-Rahman-ir-Rahim
Your Highness Sheikh Mohammed bin Rashid Al Maktoum,
Vice President and Prime Minister of the UAE, and Ruler of Dubai
Your Highnesses
Excellencies
Distinguished guests
As-salaam-o-aleikum
It is a genuine pleasure to welcome you to the 2016 ceremony of the Aga Khan Award for Architecture.
As you may suspect, I have the privilege of attending many wonderful ceremonies as I carry out my responsibilities. But this Architectural Award Ceremony is one of those that I look forward to with a special sense of anticipation.