Note: Audio is placed below the main text, when available.
Welcome to F.I.E.L.D.- the First Ismaili Electronic Library and Database.
Prince Amyn Aga Khan new representative to Bangladesh 2015-12-03
Posted December 3rd, 2015 by librarian-hd
in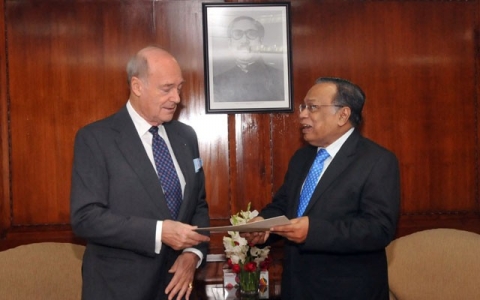 Date:
Thursday, 2015, December 3
Prince Amyn Aga Khan is the new Non-Resident Personal Representative of Aga Khan to Bangladesh.
He presented his credential to Foreign Minister Abul Hassan Mahmood Ali on Thursday, the foreign ministry said.
He conveyed to the foreign minister that Aga Khan Development Network would take steps for the development of health, education, culture, and tourism sectors in Bangladesh.
Recent Articles
Posted September 26th, 2021 by librarian-hd
Volunteers in Bangladesh distributed facemasks to various frontline workers
The Ismaili Muslim Community in Bangladesh joined tens of thousands of community volunteers from over 30 countries to celebrate the first ever Global Ismaili CIVIC Day on Sunday.
To commemorate the day, the volunteers partnered with 60 civil society and government partners to improve the quality of life in their communities through diverse activities to protect the environment and aid the response to the Covid-19 pandemic, according to a press release.
Posted July 31st, 2020 by librarian-hd
The Aga Khan National Council for Bangladesh has announced its partnership, under the Ismaili CIVIC umbrella, with Mission Save Bangladesh initiative to provide emergency support to underprivileged communities.
In keeping with its longstanding tradition of helping those in need, the Ismaili CIVIC today donated to Mission Save Bangladesh to provide underprivileged people affected by the Covid-19 pandemic with meat, rice and vegetables during the upcoming Eid-ul-Azha, according to a press release issued today.
Posted January 13th, 2019 by librarian-hd
Source:
unb.com.bd united news of Bangladesh
Dhaka, Jan 11 (UNB) – The prestigious Aga Khan Gold Cup Golf Tournament-2019 got off to a fine start amidst a lot of fanfare at the Kurmitola Golf Course on Friday morning.
Air Chief Marshal Masihuzzaman Serniabat officially inaugurated the ceremony as chief guest by teeing off in the morning at 7am.