Note: Audio is placed below the main text, when available.
Welcome to F.I.E.L.D.- the First Ismaili Electronic Library and Database.
The Aga Khan Announces the Engagement of His eldest son Prince Rahim
Posted April 26th, 2013 by librarian-hd
in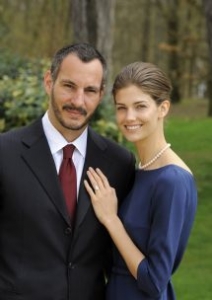 Date:
Friday, 2013, April 26
Aiglemont, France, 26 April 2013 -- His Highness the Aga Khan today announced the engagement of his eldest son, Prince Rahim Aga Khan, to Ms. Kendra Spears of Seattle, Washington, the United States.
The Aga Khan, who is the Spiritual Leader or Imam of the global community of the Shia Ismaili Muslims, said he was delighted to announce the engagement.
Recent Articles
Posted January 13th, 2017 by librarian-hd
Second son born to Princess Salwa and Prince Rahim
TheIsmaili.org
12 January 2017
Aiglemont, 12 January 2017 — It is with great happiness that Mawlana Hazar Imam has announced that Princess Salwa has given birth to a baby boy named Sinan.
Born in London, United Kingdom on 2 January, Prince Sinan is the second child of Prince Rahim and Princess Salwa, and a little brother to Prince Irfan, who was born on 11 April 2015.