Note: Audio is placed below the main text, when available.
Welcome to F.I.E.L.D.- the First Ismaili Electronic Library and Database.
PRINCESS SALIMAH AGA KHAN IN THE AFGHAN REFUGEE CAMPS IN PAKISTAN - 2002-07-02
Posted July 10th, 2007 by heritage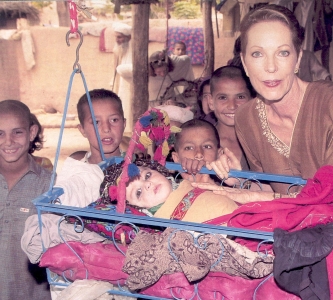 Date:
Tuesday, 2002, July 2
SOS has opened playgrounds for the children in the camps. Initially, the youngsters were bemused by the activities on offer and some even went as far as trying to break them up. But once they were taught how to use swings and slides, they had a whale of a time, and Salimah now reckons the play areas have been one of the Pakistani project's biggest successes.
Interview
Posted November 1st, 2020 by librarian-hd
Pour la troisième année consécutive, la princesse Salimah Aga Khan a fait le voyage à Tahiti, pour rendre visite au village d'enfants dont elle est la marraine. Une action humanitaire qui a vu le jour au moment où sa vie prenait une nouvelle direction.
"Lorsque l'ombre de la nuit, Déchire mon coeur d'enfant, Dans le noir, la solitude qui m'attend, Et pourtant tu est là près de moi, Très chère maman, belle princesse, Ton amour est une caresse, J'ai besoin de toi, oui de toi".