Note: Audio is placed below the main text, when available.
Welcome to F.I.E.L.D.- the First Ismaili Electronic Library and Database.
THE AGA KHAN'S HISTORIC SYRIA VISIT - 2001-11-04
Posted July 10th, 2007 by heritage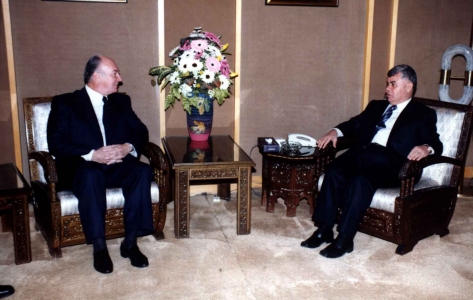 Date:
Sunday, 2001, November 4
DAMASCUS, Syria: Vice President Abdel Hallim Khaddam received here Sunday Ismaelite Moslems spiritual leader, Prince Kareem Agha Khan. Talks dealt with the importance of studying culture and the Islamic legacy and with boosting coopeartion between peoples of the Islamic World.
Also, the Republic's Mufti Sheikh Ahmad Keftaro received the Prince Agha Khan. Talks during the meeting dealt with the current international situation and tolerance of the Islam religion and Islam call for intimacy and peace between peoples of the world. They asserted that Islam is religion of the high values, fraternity and intimacy.
Later on, the Prince met separately in his residence, Ministers of Education, Mahmoud Al-Sayed, Finance, Mohammad Khaled Al-Mahayni, Tourism, Qassem Meqddad, and Culture, Maha Qunout. Talks dealt with ways of developing cooperation relations between these Ministries and foundation of Agha Khan for development.
Albums for THE AGA KHAN'S HISTORIC SYRIA VISIT - 2001-11-04
Speech
Posted March 7th, 2009 by librarian-hd
Speech by His Highness the Aga Khan at the 2001 Award Presentation Ceremony of the Aga Khan Award For Architecture, The Citadel (Aleppo, Syria)
06 November 2001
Your Excellency Prime Minister Miro
Honourable Ministers
Your Excellencies
Distinguished Guests
It is with great joy that I open the 2001 Presentation Ceremony of the Aga Khan Award for Architecture. To do so in Syria and in this great city of Aleppo is exhilarating. For me, it is moving in a very personal way, for it takes place in a land of shared history and common heritage.