Welcome to F.I.E.L.D.- the First Ismaili Electronic Library and Database.
Aga Khan Preschool named most nature-friendly preschool in Gujarat by Education World India 2021-04
Posted April 25th, 2021 by librarian-hd
Date:
Friday, 2021, April 23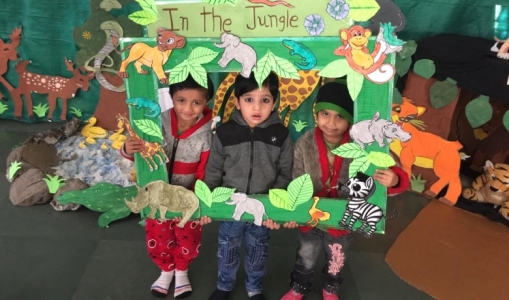 The Aga Khan Preschool in Thorala, in Rajkot, Gujarat, won two awards from EducationWorld India for being the most Nature-Friendly Preschool in the Gujarat State and the seventh most Nature-Friendly Preschool in India.
"When there is inner and outer cleanliness, it approaches godliness," said Mahatma Gandhi. This sentiment is especially relevant on Earth Day, a global event supporting environmental protection that is celebrated annually on April 22nd. Since its launch in 1970, Earth Day has inspired schools and institutions around the world to become models of sustainable habits and environmental awareness. The Aga Khan Preschools across India, owned by the Aga Khan Education Service, India (AKESI), have made it part of their mission to instil these values in each child and across the school community.
Children at the Aga Khan Preschool, Thorala, learning to take care of nature by sowing wheat seeds (photo taken prior to COVID-19).
AKDN / Zohra Hemnani
At the Aga Khan Preschool, Thorala, sustainability habits and environmental consciousness are taught early on. Environmentally friendly measures include switching to all-natural cleaners, offering cloth napkins instead of paper towels, encouraging children to use eco-friendly toys, and modelling sustainable lifestyle habits such as reusing, reducing and recycling. The Preschool serves only vegetarian and organic food, and leftovers are recycled or composted by the staff. In addition, the Preschool teaches children about the importance of being mindful of their environment through fun and enjoyable daily activities. The classroom is an excellent vehicle for introducing environmentally sound decision-making to even the youngest students.
The Preschool's efforts have not gone unnoticed, as demonstrated by these prestigious awards. EducationWorld India ranked the preschools in order of which had the most environmentally friendly campus as well as the quality of education offered.
"We are very happy to know that the Aga Khan Preschool in Thorala has received this award. The Preschool is taking extra care to nurture students and encourage the habit of protecting the environment in the students from a very early age, and we as parents are becoming more conscious of protecting nature," said a parent, Rahim Vasaya.
The Aga Khan Preschools in India promote holistic learning via Shishu Pahel Paddhati ® (SPP), a progressive methodology that gives children the support they need to sharpen their minds and develop self-confidence. The programme provides a safe and nurturing learning environment and opportunities to meet the developmental needs of the children. Most of the Preschools are located in remote locations of Gujarat to provide children with access to quality education.
Aga Khan Education Services in India were ranked among the country's top 10 most respected education brands and the most respected early childhood education brands. The Aga Khan Preschools were ranked as the fifth Most Respected Early Childhood Education Brand in India, whilst the Aga Khan Education Service, India as a whole was ranked as the eighth Most Respected Education Brand in India, both by EducationWorld India.
On receiving the award, Dr. Iqbal Sama, Regional Head for Gujarat, said, "As an advocate of environment-friendly preschools, our preschool encourages and promotes awareness of environmental responsibilities and implements practices that contribute to a clean and non-toxic sustainable future, which also immediately benefits the health and well-being of children in our care."