Welcome to F.I.E.L.D.- the First Ismaili Electronic Library and Database.
Resource center for parents and children opened in Naryn
Posted August 26th, 2019 by librarian-hd
Date:
Friday, 2019, August 23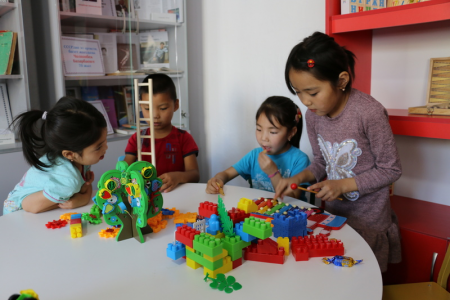 AKIPRESS.COM - The opening ceremony of a parental resource center in the Naryn District Library named after E. Ibraev took place in Naryn on August 21, the Aga Khan Foundation reports.
The opening of the center was made possible thanks to a joint initiative of the Aga Khan Foundation and the Aga Khan Academy, which are both agencies of the Aga Khan Development Network.
The parental resource center aims to support the education system to improve reading skills of young children. Children and parents will be provided with access to textbooks, educational materials and innovative technologies for early childhood development. This, in turn, will serve as an occasion for the active involvement and participation of parents in the educational processes of their children, especially through reading, which will positively affect the strengthening of relationships within the family and the development of young children.
"Children from villages will have the opportunity to come to the center to read books, participate in active learning games and watch educational shows and cartoons. Parents will also be able to organize events for their children, as well as take part in master classes and training on early childhood education and reading," the Foundation emphasized.
The parental resource center is replenished with children's books in Kyrgyz, Russian and English languages, as well as educational toys. It is also equipped with furniture and IT equipment, such as a projector, laptop, color printer, projection screen and whiteboard. The total contribution of the Aga Khan Foundation in equipping this center amounted to 374,000 soms.
The event was attended by representatives of the Naryn district administration – namely by akim of Mr. Semetey Cherikbayev, representatives of the Aga Khan Foundation's initiative – Kyrgyzstan Mountain Societies Development Support Programme, representatives of the regional and city libraries, the Naryn District Department of Culture, as well as children and their parents from the village.