Welcome to F.I.E.L.D.- the First Ismaili Electronic Library and Database.
Hakims' tombs regain glory-restoration work on Hakims' tombs being done by Aga Khan Trust for Culture (AKTC) 2019-01-02
Posted January 2nd, 2019 by librarian-hd
in
Date:
Wednesday, 2019, January 2
Source:
telanganatoday.com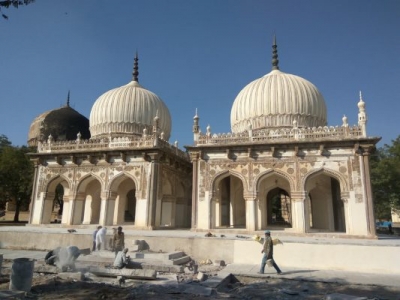 Hyderabad: A search for Hakims' tombs in Google will take you to a monument in Pakistan! However, the little less known fact is that there are two such tombs in the heart of Hyderabad, located within the seven tombs complex.
The restoration work on Hakims' tombs being done by Aga Khan Trust for Culture (AKTC) is nearing completion and is expected to be thrown open for visitors soon, said Ganesh Reddy, Manager Operations for AKTC.
Nizamuddin Ahmed Gilani and Abdul Gaffar Gilani were the two favourite Hakims (Doctors) of Sultan Abdullah Qutb Shah. The twin tombs were built in 1651. The Commander's tomb, which is also next to the Hakims' tombs, will also be opened on the same day.
Architectural marvels
All the tombs, mosques, baolis (step wells) and other monuments in the seven tombs complex are the architectural marvels of Qutb Shahi dynasty, which was established in the 16th century. The Qutb Shahi rulers, whose dynasty survived till 1687, were great builders, whose structures include Charminar, Golconda Fort and several other monuments in Hyderabad, historians here aver.
The Qutb Shahi Heritage Park served as a necropolis to the dynasty. Monarchs and other prominent nobles were buried here during the 169-year rule of Qutb Shahis. The tombs complex has 80 monuments, which include 40 mausoleums, 23 mosques, seven baolis, a hamam, pavilions, tanks, wells, garden structures and enclosure walls.
Twin tombs
It is a twin tomb structure with both the structures identical and on the same platform. The square tomb covers an area of 10.35 m x 10.35 m and follows an open pavilion plan with three arched openings on each side. Internally, these have an arcaded octagonal grave chamber roofed with a bulbous dome raised on a 16-sided drum. Dome internal ceiling is decorated with merlon bands and flower bands.
Externally, all the facades are identical and have extensive stucco decorative in the form of medallions, floral bands and panels. Each facade has merlon shaped parapet wall over the stone brackets and chajja. The dome is extensively decorated with ribs and leaf pattern band at the base. The German Consulate based in Chennai has sponsored for the conservation of Hakims' tombs, said Yoshowant Purohit, AKTC Project Manager.
Integration of Deccan Park
The Deccan Park is seen as the ideal entrance zone to the grand complex there by creating a suitable entry point to the heritage zones wrapped by ecological and formal landscape. The infrastructure development works such as amphitheatre and parking facility were also on track.
Restoration works
The Commander's tomb.
In January 2013, a MoU was signed between the Department of Archaeology and Museums, now Department of Heritage Telangana, the Quli Qutb Shah Urban Development Authority, Aga Khan Foundation and the Aga Khan Trust for Culture to undertake conservation works on all monuments with a holistic landscape development of the 106-acre Qutb Shahi Heritage Park.
The Tata Trusts also pledged its support to conserve 10 major monuments. The Ministry of Tourism (Govt of India) has announced its support for the development of the landscape.
On World Heritage Day, April 18, 2018, the first phase of conservation and landscape restoration works were completed. Prominent structures conserved in Phase-1, include the mausoleum of Sultan Quli Qutb Shah, Jamshed Quli Qutb Shah, Ibrahim Quli Qutb Shah, Muhammad Quli Qutb Shah. Other structures such as Idgah, Hamam, three baolis, mosques, grave platforms, chaukhandis were also developed.
Under Phase-2, conservation works are being carried out on tombs of Muhammad Qutb Shah, Hakims, Commander, Premamati, and Taramati, Hayat Bakshi Begum and great mosque, while Phase-3 will focus on the entrance zone and few other structures.
Footfall
The Aga Khan Trust for Culture will also carry conservation works on Paigah Tombs and Ashoor Khana based in the old city. Footfall at Heritage Park has increased since the opening of Phase-1. The Telangana government's extensive focus on introducing the history of Telangana and Hyderabad in school curriculum is also attracting students of all ages to the site.