Welcome to F.I.E.L.D.- the First Ismaili Electronic Library and Database.
Remarks by Prince Amyn at the World Monument Fund Gala 2018-10-23
Posted November 3rd, 2018 by librarian-hd
Date:
Tuesday, 2018, October 23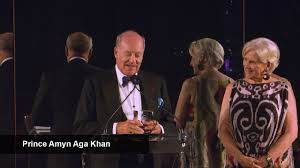 Remarks by Prince Amyn Aga Khan at the 2018 World Monuments Fund Gala upon receiving the Hadrian Award in New York City on October 23, 2018
Thank you very much
I am flattered and I am honored and it has been a joy working with the WMF
I find that working with a monument allows you to do much more than just restoring the monument when they are adopted by the local citizens around the monument. Those citizens can be encouraged to modernize the infrastructure around the monument and then maybe to upgrade or create an educational facility and possibly a medical facility. Then you give them a little bit of micro-finance. You give them some financial assistance and suddenly you have shops and you have a life around these monuments
And suddenly a monument, a thing of the past, has become an essential part of the present. And what was dead has been given life
So I think it's one of the best activities we can engage in.
Thank you