Welcome to F.I.E.L.D.- the First Ismaili Electronic Library and Database.
Aga Khan Master Musicians, Royal Albert Hall, London, review: A dazzling celebration of music from Islamic countries 2018-06-21
Posted June 21st, 2018 by librarian-hd
in
Date:
Thursday, 2018, June 21
Source:
www.independent.co.uk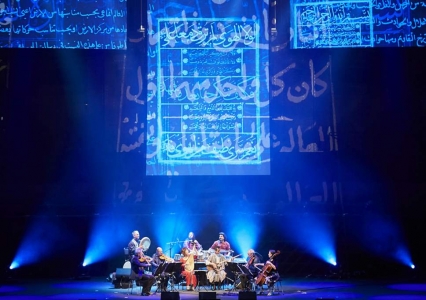 The Aga Khan used to be thought of in terms of beautiful women, hotels, and racehorses, but these days the millionaire spiritual leader is more likely to be associated with hospitals and the preservation of endangered forms of culture.
The event which filled the Royal Albert Hall last night was a triumphant affirmation of the latter, celebrating as it did 60 years of the Ismaili leader's championing of local musics from everywhere between Morocco and Java – everywhere, that is, where Islam is the dominant religion. Since the Ismaili brand of Islam is pluralistic, this policy fits perfectly with the endless diversity of musical styles.
As front-runners among classical musicians in the search for new ways of incorporating old musics from all round the world, the Kronos Quartet have long collaborated with the Aga Khan Music Initiative, so it was fitting that they should dominate the first half of this concert. The Malian trio who dominated the second half – the ngoni-player Bassekou Kouyate with his wife Amy Sacko and daughter Oumou Kouyate – reflected the AKMI's activities in Africa.
And since the beginning of the AKMI's work was in Asia, we also got the stars who have emerged there from under its umbrella: rubab-player Homayoun Sakhi from Afghanistan, the pipa-virtuoso Wu Man from China, the string-maestro Sirojiddin Juraev from Tajikistan, the saxophonist composer-improviser Basel Rajoub from Syria, plus four more instrumental masters. Much of their work involves teaching – passing on their art to new generations – but here they were simply allowed to dazzle.
And dazzle they did. The classical instrumental solos were as superb as one expected – from Sakhi, Man, and Juraev to Abbos Kosimov on the doira drum, and Feras Charestan on qanun. Most interesting was how these musicians kept coming together in different combinations, and how their compositions jelled while retaining a sense of spontaneity.
Rajoub presided like a reincarnation of Miles Davis over his compositions, while Man provided the underpinning for pieces in many styles. The Malian family trio temporarily turned the evening into a heart-warmingly African event, though it was marred by terrible amplification. The Central Asian numbers evoked a realm of immense sophistication and refinement.
More about: | Aga Khan | Royal Albert Hall
I