Welcome to F.I.E.L.D.- the First Ismaili Electronic Library and Database.
Speech by Prince Aly Muhammad at the 34th World Partnership Walk in Toronto, Canada 2018-06-17
Posted June 18th, 2018 by librarian-hd
in
Date:
Sunday, 2018, June 17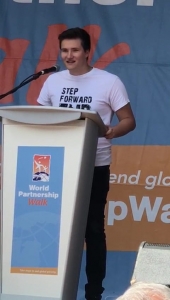 Speech by Prince Aly Muhammad Aga Khan at the 34th World Partnership Walk in Toronto, Canada
June 17, 2018
Minister Bennett, Your Worship Mayor Tory, Distinguished Guests and Friends of the World Partnership Walk.
I can't tell you how excited I am to be here today. Today is a celebration, it is a celebration of Canadians coming from all of Canada to contribute to the quality of life in some of the poorest and most remote parts of the world.
As many of you know, the Aga Khan Development Network – the AKDN – is an important way for my family, the Ismaili community and people from all walks of life to address the concerns raised by the poorest communities across Africa and Asia.
In October of last year, I myself was lucky enough to go to the Northern Areas of Pakistan, a stunning area of the world. Truly beautiful with an incredible culture. And what I saw there were excited and inspired students going to quality schools set up by the Aga Khan Education Services. I saw new and cutting-edge health centres led by the Aga Khan Health Services. And I saw what can only be described as a bright and vibrant future full of hope and determination.
I saw all of these things but I also one thing that we cannot ignore – and that is climate change. And it's long-lasting effects on the people living in these regions.
You know I will never forget interviewing a family in their home and speaking to the father who I asked which threats and risks his family were facing. I expected him to explain it to me. But instead he stood up and casually walked over to the window and he showed them to me. He pointed to the right, he pointed to the river flowing through the valley and he said – this is where we have the annual floods. Then he looked down at the ground and he said we have the occasional earthquake. And then he pointed over to the left, to the mountain, and he said – this is where we have our avalanche risks.
I remember looking at that mountain and about half-way up there were two big boulders about the size of the home I was standing in. And it looked like only a matter of time before it would come down, toppling down the mountain. And I can tell you now that the thirty minutes that I stood in that house, I was afraid.
The natural disasters that are present in this region of the world impact the lives of the communities all too frequently. They result in the loss of life. They result in the loss of homes and they result in the loss of access to safe drinking water, to medical attention and to an education, to schools. The ways in which we the AKDN try to tackle these issues ranges from training civilians to act as first responders, administer medical attention to those that are in need from working in the direct aftermath of these disasters by building permanent and temporary homes for families who have lost theirs to working to reduce the effect of future disasters by building retaining walls and by building earthquake-resilient housing.
Our aim for these communities is to build resilient communities, to build communities that have peace of mind and communities that don't have to worry where and when the next disaster will strike.
This is part of the AKDN's mission – to improve the quality of life. And, Ladies and Gentlemen, that is what everyone here is helping us to achieve today. Therefore, a big thank you must go to our corporate leaders and our public officials whose presence is very important to us here today. To our sponsors and our donors for their generous funding. A big thank you must go to our volunteers and our fund-raisers for their devotion of countless hours to organizing today and of course to all of you walkers who have taken the time to walk through this beautiful city of Toronto.
To that end I am incredibly excited to be one of the many young people here today. You are all no doubt inspiring your schools, your families and your work-places. And from the bottom of my heart, I hope to see more and more of you in the years to come.
Finally, on a personal note. This was my first active engagement with the AKDN - travelling to Northern Pakistan and taking part in the walks today. And it has been an incredible experience. It has been an experience that I will cherish for the rest of my life, an experience that I feel honored to have had. But more importantly it has given me two things – it has given me the opportunity to travel to Northern Pakistan and witness the problem first hand and it has given me the opportunity to stand in front of you all today and witness the solution.
Thank you