Mawlana Hazar Imam to establish Ismaili Centre in Houston 2018-03-21
2018, April 9 - 16:36 — librarian-hd
Date:
Wednesday, 2018, March 21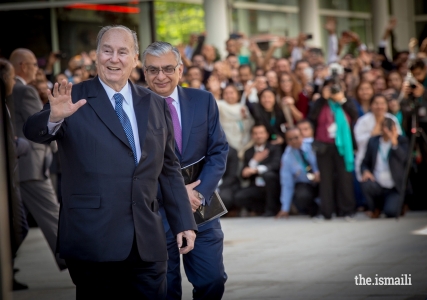 awlana Hazar Imam confirmed plans to build a high-profile centre in Houston on 22 March during his final Mulaqat of the USA Diamond Jubilee visit. He went on to say that the process of selecting architects is already underway with guidance from Hazar Imam's brother Prince Amyn.
President of the Ismaili Council for the United States, Dr. Barkat Fazal, commented, "We are immensely grateful to Mawlana Hazar Imam as this Centre, representing our ethics and values, will serve as an ambassadorial building furthering community connection and dialogue."
Ismaili Centres represent the permanent presence and the core values of Ismaili communities around the world. These buildings, exceptional in architectural form, embody the hopeful aspirations of a forward-looking community. Through their libraries, classrooms, gardens, meeting spaces, and prayer halls, the buildings function as places of learning, contemplation, discovery, dialogue, and friendship. To learn more, visit the Ismaili Centres site.
During the same Mulaqat, on behalf of the USA Jamat, President Fazal presented a loyalty address to Mawlana Hazar Imam, and Vice-President Zahir Ladhani presented a gift to Hazar Imam of a collection of 147 glass weights dating back to the Fatimid era during the 10th and 11th centuries.
The weights illustrate the colorful variety, diversity, and artistic creativity of glass produced at the time of the Fatimid dynasty. Symbolically, they also represent aspects relating to pluralism, ethics, and equity, as well as religious and spiritual authority. The glass weights are inscribed with the names and titles of the Ismaili Imams of the period, as well as other phrases attesting to the Imam's authority or wilaya. The inscriptions also emphasise the central role of the Imam and the concept of Imamah in Ismaili history and thought.
Addressing the Jamat gathered in Houston, Mawlana Hazar Imam expressed gratitude and happiness over his Diamond Jubilee visit to the United States, and conveyed guidance and blessings to the Jamat in the US and around the world.
Yesterday, on the occasion of Navroz, Hazar Imam was presented with the One Jamat Mosaic, comprising thousands of individual photos into a single, cohesive work of art. The mosaic was created by Ismaili artists to capture the excitement and anticipation of members of the USA Jamat during the Diamond Jubilee year, and in the lead up to Hazar Imam's visit.