Welcome to F.I.E.L.D.- the First Ismaili Electronic Library and Database.
Prince Rahim Aga Khan attends opening of the Second World Nomad Games 2016-09-06
Posted September 7th, 2016 by librarian-hd
Date:
Tuesday, 2016, September 6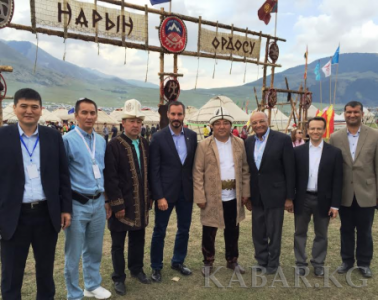 Cholpon-Ata, September 6 / Kabar /. Representing His Highness the Aga Khan, Prince Rahim Aga Khan attended the official opening of the Second World Nomad Games, 2016, at the invitation of H.E. President Almazbek Atambayev. He was amongst 30 other Heads of Delegations, which included Heads of Republics, Ministers and other high level dignitaries, Aga Khan Development Network Representation Office in Bishkek reports.
With more than 1,000 performers and an exhilarating sound and light show, the opening ceremony, presented themes common to nomadic traditions in diverse geographical and cultural contexts, while highlighting those specific to Kyrgyzstan. Some 2,000 athletes from 40 countries are participating in over 20 sports competitions. These include wrestling, horse racing, archery, horseback wrestling, kok-boru, Central Asia's most renowned horseback competition and toguz korgool (a nomadic intellectual game).
"I am delighted to be back in Kyrgyzstan to enjoy its stunning landscapes, traditions of hospitality and to meet old and new friends. It was a pleasure to witness the spectacular opening of the Second World Nomad Games and in particular to experience the enthusiasm of the Kyrgyz peoples for their nomadic traditions," noted Prince Rahim, who headed the Aga Khan Development Network (AKDN) Delegation, which included Shamsh KassimLakha, the Diplomatic Representative of the AKDN in the Kyrgyz Republic.
Welcoming Prince Rahim to the Naryn Oblast section of the ethno-village specially built for the second day of the ceremonies, the Naryn Governor, Amanbai Kayipov, remarked, "We are honoured by your presence and look forward to welcoming you to our oblast to see first-hand the positive contribution of AKDN programmes to the lives of the people."
The Second World Nomad Games will continue until 8 September on the shores of Lake Issyk Kul, the tenth largest lake in the world. Musicians trained by the Aga Khan Music Initiative will perform traditional pieces specially composed for the closing ceremony of the Games.
Aga Khan Development Network (AKDN), which was founded by His Highness the Aga Khan, is a private, international, non-denominational development organisation. It employs over 80,000 people in over 30 countries. Its agencies address complex development issues, including the provision of quality healthcare and education services, cultural and economic revitalisation, micro-enterprise, entrepreneurship and economic development, the advancement of civil society and the protection of the environment. The AKDN aims to improve living conditions and opportunities for people without regard to their particular religion, race, ethnicity, or gender.