Note: Audio is placed below the main text, when available.
Welcome to F.I.E.L.D.- the First Ismaili Electronic Library and Database.
Aga Khan Extols a Free and Responsible Media while Opening New Printing Plant in Kenya 2016-03-17
Posted March 17th, 2016 by librarian-hd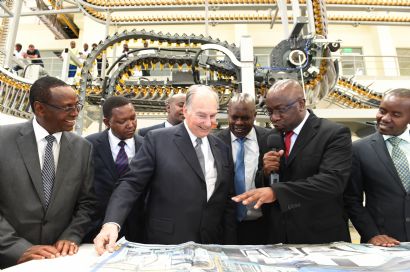 Date:
Thursday, 2016, March 17
There are 3 Video of 17 March 2016 Nation Media new Printing Press opening and speech of H.H. The Aga Khan
QTV long Video now available![/b]
https://www.youtube.com/watch?v=XyfkZ1NSvqo
Also The shorter NTV Video clip is now available:
https://www.youtube.com/watch?v=A6zZVwl76LE
From AKDN, we get this Video on Youtube
https://www.youtube.com/watch?v=A-2TI-334wU&feature=youtu.be
Machakos County, Nairobi, Kenya, 17th March 2016 – His Highness the Aga Khan today emphasized the importance of reliable and trustworthy media in a world filled with multiple sources of information.
"In such a world, it is absolutely critical – more than ever – that the public should have somewhere to turn for reliable, balanced, objective and accurate information – as best it can be discovered," he said.
The Aga Khan made the remarks at the opening of a new state-of-the art printing plant that will print newspapers and magazines of the Nation Media Group – a media house he founded almost six decades ago.
The Chairman of the Aga Khan Development Network and Imam (Spiritual Leader) of the Shia Ismaili Muslims noted that the Nation Media Group has come a long way since the establishment of its first small newspaper in the final days of Kenya's colonial era, growing to become East Africa's largest media organization.
"We have expanded by launching new newspapers – like the East African and the Business Daily – by moving into the television and radio worlds, and by expanding into other countries in East Africa. And we have also moved decisively into on-line, computerized distribution of news and information," he said.
He added that the new printing press not only signalled Nation's commitment to providing the best product to its readers and advertising customers but also reinforced the Group's commitment to its original mission.
"As we commission this new press today, we are also rededicating ourselves to the ideals which gave birth to this company almost six decades ago – and that have propelled it forward ever since," he said.
The Aga Khan lauded the Nation's new editorial guidelines, which are designed to ensure the Group's adherence to the highest editorial standards and practice.
"These Guidelines represent a set of ethical and procedural standards – our honour code as independent journalists. Adhering to them is something we think of as a moral obligation," he remarked.
The Nation's founder emphasized the need to approach media issues in a comprehensive way by not only developing media organizations but also by training future journalists for the developing world. He cited the recent establishment of the Aga Khan University's Graduate School of Media and Communications as an effort designed to improve journalistic standards across the developing world.
In a statement read by Cabinet Secretary for Information, Communications & Technology, His Excellency Uhuru Kenyatta, President of Kenya, commended the plant as the largest investment that any media house has made in East and Central Africa, and that it was made possible by the robust and conducive business environment.
"Freedom of press is the hallmark of a mature democracy," said His Excellency, calling upon the media to play their rightful role "independently, fairly and in a balanced manner," particularly in the lead up to the election period. "I can assure you that my Government will continue to consult with the stakeholders and industry to achieve sensible and sustainable regulations."
The KES 2 billion state-of-the-art printing plant is expected to improve overall print quality, enhance newspaper pagination and increase colour capacity in tandem with the Group's expanding print business.
For more information please contact:
Doris Mitti
Regional Communications Officer, AKDN
Email: Doris.Mitti@akdn.org
Tel: +256776701253
Semin Abdulla
Communications Manager
Email: Semin.Abdulla@akdn.org
Notes:
The Nation Media Group is part of the Aga Khan Development Network (AKDN). AKDN's agencies and institutions are private, international, non-denominational development organisations. They work to improve the welfare and prospects of people in the developing world, particularly in Asia and Africa, without regard to faith, origin or gender. Its programmes are designed to bring a critical mass of economic, social and cultural activities to bear on a given area. Its projects encompass many of the determinants of the quality of life, including the natural and built environments in both urban and rural areas, food security, health, education, access to financial services and economic opportunity, as well as the cultural areas of traditional music, architecture and art. Some programmes, such as specific research, education and cultural programmes, span both the developed and developing worlds.
Speech
Posted March 17th, 2016 by librarian-hd
Video: https://www.youtube.com/watch?v=A-2TI-334wU&feature=youtu.be
Bismallah-ir-Rahman-ir-Rahim
Cabinet Secretary Joe Mucheru
Cabinet Secretary Adan Mohamed
Governor of Machakos County, Dr Alfred Mutua
Excellencies, Members of the Diplomatic Corps
NMG Chairman Wilfred Kiboro
Mr Muganda
Distinguished Guests
Ladies and Gentlemen
This is a great day for the Nation Media Group and for the media community in Kenya, as we take a major step forward in our efforts to serve this country and this region ever more effectively.
Recent Articles
Posted May 4th, 2016 by librarian-hd
Source:
graphicsrepro.co.ca
FULL STORY
The future-oriented newspaper printer Nation Media Group in Nairobi was convinced of the promising potential of the African newspaper industry and, therefore decided to invest in a Manroland Web Systems Colorman e:line at the end of 2013.
His Highness The Aga Khan presses the start button on the Colorman e:line in the presence of Wilfred Kiboro, Alfred Mutua, Joe Muganda, Gideon Aswani (covered), and Joe Mucheru (from left).
| © Nation Media