Welcome to F.I.E.L.D.- the First Ismaili Electronic Library and Database.
Canada's Seneca College and the University of Central Asia sign milestone partnership agreement 2015-07-08
Posted July 8th, 2015 by librarian-hd
Date:
Wednesday, 2015, July 8
Source:
CNW a PR NEWSWIRE Company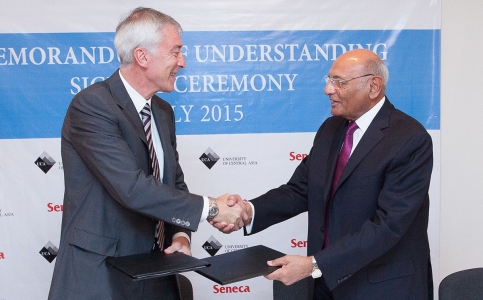 BISHKEK, Kyrgyz Republic, July 8, 2015 /CNW/ - Seneca and the University of Central Asia (UCA) signed a memorandum of understanding yesterday that will see Seneca develop a preparatory program for incoming students as the university gets ready to open its first undergraduate campus in Naryn, Kyrgyz Republic next year.
The signing ceremony took place at UCA's Central Administration Office in Bishkek.
"This partnership with Seneca College represents a critical step forward in the delivery of UCA's undergraduate curriculum, as well as in faculty development, in advance of our first campus opening in 2016," said Shamsh Kassim-Lakha, Executive Chairman of the UCA Board Executive Committee.
Seneca was chosen after an international search that focused on 30 universities and colleges that offered preparatory programs. Seneca's strengths included its strong track record in international education, the focus on practice-based learning and the ability to develop integrated curriculum customized to the context and culture of UCA's teaching environment.
"This agreement with UCA embodies Seneca's commitment to building bridges and networks throughout the world," said David Agnew, Seneca President. "We are committed to outstanding academic programs and fostering a global perspective, and look forward to a successful collaboration."
The preparatory program will be offered in the first year of UCA's five-year undergraduate program. It is an enrichment program designed to ensure that UCA students attain internationally competitive levels in English, math and science and develop key study and research skills necessary to succeed at university. The program will be delivered for the first time when UCA opens its first undergraduate campus in Naryn, Kyrgyz Republic next year.
UCA will offer majors in Computer Science, Communications and Media, Economics, Earth and Environmental Sciences, Engineering Sciences and Business and Management. Minors include Development Studies, Central Asian Studies and Globalization Studies. Students will graduate with either a Bachelor of Science or a Bachelor of Arts.
The partnership between UCA and Seneca College is undertaken with the financial support of the Government of Canada, provided through Foreign Affairs, Trade and Development Canada and the Aga Khan Foundation, Canada.
About Seneca College
One of Canada's leading postsecondary institutions, Seneca offers a comprehensive range of programs across all disciplines to nearly 100,000 full- and part-time students in campuses across the Greater Toronto Area. Seneca's graduate certificates, degrees, diplomas and certificates attract more than 5,000 students from 120 countries around the world and students from across Canada. With an emphasis on work-integrated learning, interdisciplinary study and flexible learning opportunities, Seneca is the pre-eminent institution in Ontario, Canada for transfer options to and from universities and colleges. For more information on Seneca, please visit: www.senecacollege.ca.
About The University of Central Asia
The University of Central Asia (UCA) was founded in 2000. The Presidents of Tajikistan, the Kyrgyz Republic and Kazakhstan and His Highness the Aga Khan signed the International Treaty and Charter establishing this secular and private University, which was ratified by the respective parliaments and registered with the United Nations. UCA was established to offer an internationally recognized standard of higher education in Central Asia and prepare graduates to contribute leadership, ideas and innovation to the economies and communities of the region. UCA brings with it the commitment and partnership of the Aga Khan Development Network. For more information on UCA, please visit: www.ucentralasia.org.
SOURCE Seneca College of Applied Arts and Technology
Image with caption: "David Agnew, Seneca President and Shamsh Kassim-Lakha, Executive Chairman of the University of Central Asia Board Executive Committee, signed a milestone partnership agreement to develop the English, mathematics and science curriculum for UCA's new preparatory program. (CNW Group/Seneca College of Applied Arts and Technology)". Image available at: http://photos.newswire.ca/images/download/20150708_C6968_PHOTO_EN_440597...
For further information: Kayla Lewis, Manager of Media Relations, Seneca College, +1 647-515-0439, kayla.lewis@senecacollege.ca; Nisar Keshvani, Head of Communications and Marketing, University of Central Asia, +996 (0) 770 822 851, nisar.keshvani@ucentralasia.org