Note: Audio is placed below the main text, when available.
Welcome to F.I.E.L.D.- the First Ismaili Electronic Library and Database.
Speech by His Highness the Aga Khan: The LaFontaine-Baldwin Lecture - 2010-10-15
Posted October 16th, 2010 by heritage
in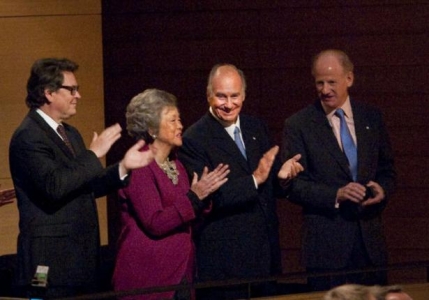 Date:
Friday, 2010, October 15
Extract: "Too often, democracy is understood to be only about elections - momentary majorities. But effective governance is much more than that. What happens before and after elections? How are choices framed and explained? How is decision-making shared? - so that leaders of different backgrounds can interactively govern-- rather than small cliques rule autocratically.
Extract: "What the Canadian experience suggests to me is that identity itself can be pluralistic. Honoring one's own identity need not mean rejecting others. One can embrace an ethnic or religious heritage, while also sharing a sense of national or regional pride. To cite a timely example, I believe one can live creatively and purposefully as both a devoted Muslim and a committed European.
Speech
Posted October 16th, 2010 by heritage
Source:
www.vancouversun.com
The Right Honorable Adrienne Clarkson, Mr. John Ralston Saul, Distinguished Guests, Ladies and Gentlemen, Mesdames et Messieurs:
When I first received this invitation, I was deeply honored. But I was also, perhaps, a bit intimidated.
I was impressed by the Lecture's prestigious history, the contributions of nine former Lecturers, and the Lecture's focus on Canada's civic culture.
Recent Articles
Posted October 27th, 2010 by heritage
Of two notable speeches from very different Muslim leaders scheduled this month for influential audiences in Canada, only one was delivered. In Ottawa, Zijad Delic, executive director of the Canadian Islamic Congress, had been asked to speak at National Defence headquarters, but that invitation was revoked by Defence Minister Peter MacKay over charges that the congress's leaders have taken extremist positions in the past (even though Delic is widely seen as a moderate). There was never any doubt, however, that the second speech would go off without a hitch.
Posted October 16th, 2010 by heritage
In a world where technology and human migration push people of differing backgrounds increasingly "in each other's face," spiritual leader the Aga Khan hailed Canada as a country that has got pluralism right.
The religious leader — imam — of the world's 14 million Shia Ismaili Muslims praised this country for allowing citizens to keep their identity as they become Canadian.