Note: Audio is placed below the main text, when available.
Welcome to F.I.E.L.D.- the First Ismaili Electronic Library and Database.
Aga Khan at Chantilly Watching Horse Behkabad Race - 2010-06-06
Posted June 7th, 2010 by heritage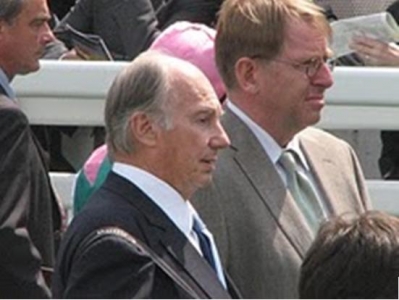 Date:
Sunday, 2010, June 6
BERKABAD - According to a TV report, H. H. the Aga Khan arrived at 2.30 French Time and left after the race. Horse came 4th and did not win the "Prix du Jockey Club". Aga Khan can be seen in a good and relaxed mood. Princess Zahra did not attend.
Albums for Aga Khan at Chantilly Watching Horse Behkabad Race - 2010-06-06
Recent Articles
Posted January 3rd, 2022 by librarian-hd
Source:
www.thoroughbreddailynews.com/ TDN Europe
One hundred years after the Aga Khan III made his first purchase at the Tattersalls July Sale, the bloodstock empire he built, and which has been carefully cultivated by his grandson, HH the Aga Khan IV, continues to thrive. Following Tuesday's first instalment of the early years of the Aga Khan Studs, the second part sees the baton pass in sad circumstances, heralding a major restructuring of the operation. The text is reproduced by kind permission from the Aga Khan Studs' centenary brochure, written by Emma Berry and John Berry.
Posted September 15th, 2021 by librarian-hd
Source:
theirishfield.ie/france The Irish Field
Saiydabad seemed to enjoy the return to a mile and two furlongs and Varkesha had a front-running success
The 3-year-old Aga Khan homebred was quick into stride on the turf to race in the second flight just behind the leaders
Posted January 19th, 2013 by librarian-hd
Vanity Fair - February 2013 features an article and interview of H.H. The Aga Khan: The Aga Khan's Earthly Kingdom - Multi-billionaire prince, spiritual leader of 15 million Ismaili Muslims, and one-man state, the fourth Aga Khan defies all boundaries. Photographs by Jonathan Becker.