Welcome to F.I.E.L.D.- the First Ismaili Electronic Library and Database.
Canada bestows honorary citizenship upon the Aga Khan - 2010-05-28
Posted May 29th, 2010 by heritage
Date:
Friday, 2010, May 28
Source:
Press Trust of India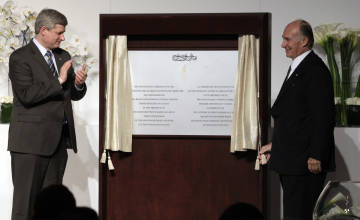 Toronto, May 29 (PTI) Canada has bestowed honorary citizenship upon the Aga Khan, spiritual leader of around 20 million Muslims worldwide.
The Aga Khan was in Toronto to launch a USD 285-million cultural centre for Ismaili Muslims and the Aga Khan Museum for Islamic Art and Culture.
Canadian Prime Minister Stephen Harper conferred the honours on the spiritual leader, saying that the centre and museum will represent the country's pluralism and cultural diversity.
The Aga Khan is the spiritual leader of Shia Imami Ismaili Muslims, a branch of Shia Islam.
Designed by eminent Japanese architect Fumihiko Maki, the museum is likely to be the most public aspect of the complex.
Demonstrating tremendous restraint in an age of architectural spectacle, this is a building intended for contemplation.
The idea, the Aga Khan explained at yesterday?s ceremonial gathering, is that of light.