Note: Audio is placed below the main text, when available.
Welcome to F.I.E.L.D.- the First Ismaili Electronic Library and Database.
AKU Dental Clinic opens in Nairobi - 2009-01-22
Posted January 25th, 2009 by heritage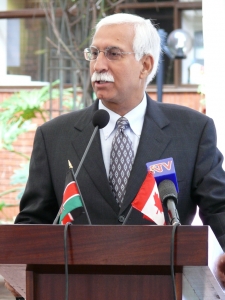 Date:
Thursday, 2009, January 22
His Excellency, Ross Hynes, the Canadian High Commissioner in Nairobi , officially opened the new dental clinic in the Doctors Plaza of the Aga Khan University Hospital , Nairobi . He stated with satisfaction that donors in Canada had funded the "state of the art" equipment for the dental clinic.
Albums for AKU Dental Clinic opens in Nairobi - 2009-01-22
Recent Articles
Posted December 27th, 2013 by librarian-hd
Coastweek-- Aga Khan University Hospital has opened a state of the art dental clinic which is located on the 3rd floor of the Park Place Building at the junction of second Parklands Avenue and Limuru Road overlooking City Park forest.
The facility consists of six dental consultation rooms, a large reception area furnished with a comfortable waiting area with Wi-Fi and a big screen TV that shows educational material on dental health. It is open from 7.00 a.m. to 8.00 p.m. from Monday to Friday and from 9.00 a.m. to 2.00 p.m. on Saturdays.