Welcome to F.I.E.L.D.- the First Ismaili Electronic Library and Database.
Aga Khan University Hospital Opens State Of Art Dental Clinic 2013-12-27
Posted December 27th, 2013 by librarian-hd
Date:
Friday, 2013, December 27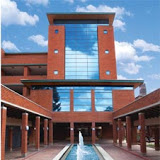 Coastweek-- Aga Khan University Hospital has opened a state of the art dental clinic which is located on the 3rd floor of the Park Place Building at the junction of second Parklands Avenue and Limuru Road overlooking City Park forest.
The facility consists of six dental consultation rooms, a large reception area furnished with a comfortable waiting area with Wi-Fi and a big screen TV that shows educational material on dental health. It is open from 7.00 a.m. to 8.00 p.m. from Monday to Friday and from 9.00 a.m. to 2.00 p.m. on Saturdays.
The new outlet at Park Place is an addition to the other dental clinic at Aga Khan University Hospital which has four chairs and is open six times a week.
Dr. Linus Ndegwa, a Dental Surgeon at Aga Khan University Hospital, said, "We have six modern dental chairs at this clinic which are computerized and connected to digital x-ray machines and individualized screens.
"This enables dentists to take x-rays, plan treatment and take pictures of the patients and show patients the outline and condition of the teeth during treatment sessions on the screen thus enabling a paperless environment.
"We also have a surgical room where minor operations are carried out. These procedures are all done under local anaesthesia by highly qualified dentists."
"Among the services being offered in our new Park Place dental clinic are comprehensive consultations, dentures, tooth colored fillings, root canal, crowns and bridges, veneers and teeth whitening.
"Our dentists also give advice on oral hygiene and diet. This facility is open to both adults and children."
"Plans are underway to open a dental laboratory at this clinic which will be used to make dentures, crowns, bridges and braces.
"Initially these services will be accessed by the Aga Khan University Hospital outlets which have dental clinics. Afterwards, we shall provide services for private dental clinics which require these devices." A separate x-ray room has already been established and will soon have the latest top of the range 3D x-ray machine.
"This provides dentists with a more complete view of the facial anatomy from almost every angle and perspective.
"It also gives the most detailed information, accurate diagnosis and precision for teeth treatment."