Welcome to F.I.E.L.D.- the First Ismaili Electronic Library and Database.
Pakistan High Commission Canada, AKDN Canada to assist businessmen to invest in Pakistan 2021-04-10
Posted April 13th, 2021 by librarian-hd
Date:
Saturday, 2021, April 10
Source:
Radio pakisan radio.gov.pk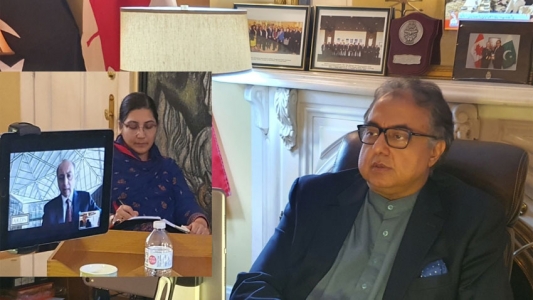 Pakistan High Commission in Ottawa Canada and Agha Khan Development Network in Canada will work together to further promote, motivate and facilitate Canadian and expatriate Pakistanis to invest in Pakistan and coordinate efforts to deal with the COVID-19 pandemic.
This was decided during a virtual meeting between Pakistan High Commissioner in Canada Raza Bashir Tarar and, Diplomatic Representative Aga Khan Development Network Dr Mahmoud Eboo in Canada.
A number of issues, including ongoing projects of Agha Khan Foundation in Pakistan and Agha Khan Development Network's support to Pakistani expatriates and their businesses in Canada, were also discussed.
Raza Bashir acknowledged that services of Agha Khan Family rendered to the people of Pakistan starting from their role in the freedom movement and appreciated for a large number of vital projects launched in the country over the past many years for socio-economic uplift and human development.
He said the government under leadership of Prime Minister Imran Khan has been pushing for a shift from geopolitics and geostrategic considerations to geo-economics and engagement with development partner and organisations.
Dr Mahmoud Eboo, on the occasion, said Agha Khan Foundation has been working in many and diverse areas in Pakistan and their partnership with the Government and commitment to its people would continue in the years ahead.