Welcome to F.I.E.L.D.- the First Ismaili Electronic Library and Database.
The West doesn't understand Islam 2005-06-07
Posted March 13th, 2021 by librarian-hd
Date:
Tuesday, 2005, June 7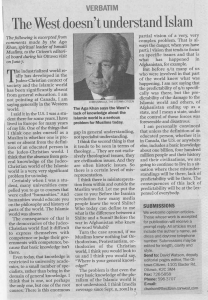 Excerpt of comments made by the Aga Khan, spiritual leader of Ismaili Muslims, to the Citizen's editorial board during his Ottawa visit on June 7
The industrialised world really has developed in the Judeo-Christian context of society and the Islamic world has been significantly absent from general education. I am not pointing at Canada. I am saying generally in the western world.