Hidden secrets of the universe-interview with Prince Sadruddin Aga Khan June Ducas about his art collection, now on show at the
2020, December 19 - 17:00 — librarian-hd
Date:
Saturday, 1998, January 24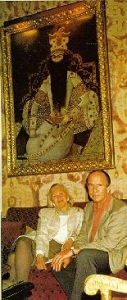 If ever East meets West, it could be said to do so at Prince Sadruddin Aga Khan's 17th-century home, the Château de Bellerive on the shores of Lake Geneva. Flanked by two square towers, the
stone façade of the château with its tiled roof, wooden shutters and arched doors of studded oak is austere but arrestingly beautiful.
While the outside may be simple, the rooms inside are crammed with exotic bibelots, orchids, oriental
rugs and textiles. But then Prince Sadruddin is the younger son of Sir Sultan Mohamed Shah, Aga
Khan III - the Imam, or leader of the Ismaili Shia Muslims. Their family's bloodline can be traced back
to the Prophet.
"I was brought up in the Muslim religion," says the publicity-shy prince, who was 65 yesterday. "My
father insisted that I learnt the Koran and encouraged me to understand the basic traditions and beliefs
of Islam but without imposing any particular views. He was an overwhelming personality but
open-minded and liberal."
Certainly Prince Sadruddin, whose name in Arabic means "defender of the faith", has based his life on
Islamic principles - brotherhood, understanding and solidarity. Having worked for nearly 40 years for
the United Nations - 12 of them as High Commissioner for Refugees - he has striven to live up to his
name.
I met him at Bellerive to talk about his collection of Islamic art. Amassed over the last 45 years, the
priceless paintings, drawings and manuscripts from Turkey, Iran and India, dating from the 14th
century, have been lent to the British Museum for a new exhibition, Princes, Poets & Paladins.
Unostentatious, with conker-brown eyes that twinkle when he smiles, the prince is dressed in grey
flannel trousers, checked shirt and tweed jacket. He appears every inch a Westerner. Yet as I sit in the
château's library dominated by Sir Oswald Birley's portrait of Sadruddin's portly Persian grandmother,
it only takes a small leap of the imagination to visualise the prince with his tapering fingers clad in Arab
garb. Indeed, for small dinner-parties with his wife Catherine and close friends, he likes to wear a
jellaba.
But looking down on us from the wall, it is the imposing image of the Begum, veiled in white with a
hubble-bubble by her side, that underlines her grandson's heritage. She was the grand-daughter of the
Fath 'Ali Shah, the last imperial ruler of Iran from the ancient Qajar dynasty before it was overthrown
by the more parvenu house of Pahlavis. For most of her life, the Begum lived in Bombay surrounded
by Persian courtiers, bejewelled Ismaili dignitaries in turbans and the classical poets of the day.
When the prince was a child, she used to recite to him the great epic poems of Persia's turbulent
history that she knew by heart. "I loved the musicality of them, even though I could not understand the
words," he says. "She left my father a library of Persian books, mystical texts and astrological treaties,
and it was through them that I became interested in Islamic art."
In the family villa in Cap d'Antibes, he would peer in wonder at the burnished pages, the mysterious
calligraphy and golden illuminations - especially at the 14th-century Mamluk Koran from which his
father never tired of quoting.
Aptly enough, his first acquisition was a folio from the Mamluk Koran of the same period, bought in
the early 1950s when he was a student at Harvard. "In those days, it was a neglected field so you
could pick up a good page of Kufik calligraphy, an Islamic script, for less than $100."
By the 1960s and '70s orientalism was becoming fashionable again. "Many great collections surfaced,"
he says, "including some Louis Cartier and Rothschild material." At the time, he thought the pieces that
he bought were extremely expensive - now they would fetch 10 times what he paid for them. "I never
went about collecting in a systematic, didactic way. I was drawn by the beauty and the symbolism of a
picture rather than the chronology or the artist. Behind each illustration, there is a hidden meaning - the
struggle between good and evil, the secrets of the universe, the meaning of life and death. Interpreting
each picture requires considerable knowledge and concentration. If you look at it quickly you miss
most of the true dimension of the picture."
Certainly, this is a supremely contemplative art, and one where nature is acutely observed. As such, it
reflects the prince's work for conservation and environmental causes, and his devotion to animal
welfare.
"This is Paradise before the Fall, where man and beast were living in harmony and nature was
respected," he says, looking at his prized possession, a water-colour entitled The Court of
Gayumars. From the famous 16th-century Shahnama or Book of Kings created for Shah Tahmasp, it
was painted by the Safavid master, Sultan Muhamad, whose work was so exquisite that it caused
fellow artists "to hang their heads in shame".
He attributes his love of nature and gardens to the time he spent with his mother in a small
country-house in the mountains of Haute Savoie. His fondness for animals he shares with his wife. In a
field by the château, they keep a horse that they saved from the knacker's yard. On the morning of my
visit, he was awaiting delivery of a pony to keep the horse company. In all, they have nine dogs,
picked up in pounds, including a Belgian Shepherd called Playboy.
Ironically, this is the epithet many people used about Sadruddin's elder half-brother, Prince Aly Khan.
Best known for his amorous conquests and short second marriage to Rita Hayworth, Aly died
prematurely in a car crash in 1960.
Gentle and urbane himself, the prince steers clear of the beau monde. On the subject of his brother he
says, "Myths and labels hang around some people's necks, giving them a reputation that does not
always correspond to reality."
For that matter, though, who is to know whether the myths and legends so exquisitely depicted in the
prince's collection are strictly true? Where art is concerned the aesthetics are paramount. Preserving
such treasures is a particular pleasure to the prince. "Fate uprooted my family from Iran over 130
years, ago," he says. "I liked the idea of trying to getting some things back and taking care of them."
He leads me into the room that was specially designed for his collection. Alongside 11th- and
12th-century ceramics, it is displayed in velvet-lined cabinets made from Moorish choir-stalls. Much to
his sadness, the paintings - highly sensitive to light - are too delicate to be on show for long periods.
Each month he visits the bank vaults where they are held, to choose an alternative selection. To see
140 grouped together and exhibited at the British Museum is, he says, a very real excitement.
Was the quest for Islamic art also a way of delving into his origins, a search for lost roots? "My father
was a great Muslim leader and my French mother was steeped in her own culture. I have a foot in the
East and another in the West."
Princes, Poets and Paladins is at the British Museum until April 13.
The catalogue, by Dr Sheila Canby (British Museum Press, £40), is
available to Sunday Telegraph readers at the special price of £35
(post free) from Telegraph Books Direct, 24 Seward Street,
London EC1V 3GB (or phone 0541 557222, fax 0541 557225),
quoting PA148
Source: Telegraph U.K. Saturday 24 January 1998
http://www.british-museum.ac.uk/princes.html ( Princes, Poets and Paladins Iranian, Mughal and Ottoman paintings
from the collection of Prince and Princess Sadruddin Aga Khan.
One-hundred and forty works of unequalled rarity and quality.)