Welcome to F.I.E.L.D.- the First Ismaili Electronic Library and Database.
FAITHFUL TO THE MAN AND THE PLACE - Interview of Mata Salamat 1992-04-23
Posted April 20th, 2021 by librarian-hd
Date:
Thursday, 1992, April 23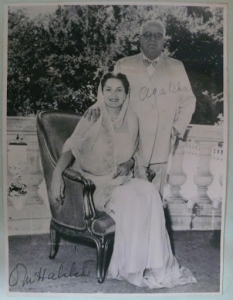 Just before leaving Aswan to spend the summer in Cannes, Princess Yvonne Aga Khan, wife of the late Aga Khan gave a rare interview to YOUSSEF EL-DEEB
Shortly before his death in 1957, Sultan Mohamed Shah Agha Khan, spiritual leader of the Ismaili sect of Islam, chose as his resting place a solitary sand dune on the West Bank of the Nile at Aswan. Princess Yvonne Agha Khan, known as the Begum, a French national and the Sultan`s third wife, has cared for this tomb ever since, staying at their house nearby for six months of the year and spending the summer at their villa in Cannes.
Sultan Aga Khan (1877-1957) was a well educated religious leader and statesman. He held a law degree and was the Head of the League of Nations from 1934 to 1937. He participated in the round-table discussions between Indian parties and Britain on the future of India. He was the first Agha Khan to leave Asia and settle in Europe. His instructions to his followers, to give priority to education and to women's emancipation, gave the Ismaili sect the proper framework to become as they are today the envy of many Muslims.
What most people remember to have heard about Agha Khan are his regular weighing by his followers, to be compensated with equivalent measures of gold-later diamonds, then platinum. What most do not realize is that the bulk of this money was fed back to Ismaili communities throughout the world in form of civil projects.
Sultan Agha Khan was the father of Ali Khan, who married Rita Hayworth, and Saddredin, who became famous for his work with the United Nations. Ali's son Karim Agha Khan has been the leader of the Ismailis since his grandfather's death. The Ismailis today are virtually a global financial empire involved in communities throughout the Western world and in Asia.
The Ismailis, a branch of the Shi`ite sect based in Persia and India once (about a thousand years ago) extended their rule to all of North Africa. Their period of rule in Egypt is known as the Fatimid period. Today, they are scattered throughout the world with sizeable communities in many Western cities. Ismailis generally stay away from politics, and often excel at business. Some have likened them to Murmons, with their great self-help projects and close-knit community relations.
Three years before his death, Sultan Agha Khan chose the site of his future mausoleum. Almost immediately be became ill and his wife spent sixteen months preparing the mausoleum.
Her supervision of the design and construction, her life-long dedication to the resting place of her husband, her contribution although unintended at first to tourism and her help to the community in Aswan, have made her a much respected figure in Egypt.
The Begum explains that she stopped giving interviews many years ago, especially in Europe, after discovering that many journalists did not write what she said, but invented statements "So I decided to make it easy for them and let them write whatever they want, since they did this anyway, " she says.
Now 86 year old and almost blind, the Begum is in the constant company of her assistant of 20 years, Janine, ("With her help life is not so bad") and her poodle Shamsy. "He is my light, this Shamsy."
An extract from the interviewer's notes reads:
"Walking through her enchanting flower gardens, by the large cage holding in a dozen gazelles ("Better they live here than get killed by hunters in the desert") seeing her squint from her veranda at what used to be, at least for her, a most beautiful view of the Nile (now gone foggy with eye disease), hearing her laughter and observing her graceful movements(for such a tall figure), one feels her deep, yet simple, commitment to something now seemingly very old fashioned : love.
Your Highness, what brings you to Aswan for six months every year and why did the late Prince Aga Khan choose the location?
I didn't choose, my husband chose. We had been coming here since 1935, when the place wasn't a touristic location at all but a health retreat and resort. We used to come for one or two months and stay at the Cataract Hotel and have lovely promenades on the Nile. We didn`t come to be cured of asthma or such things, it was just to enjoy the good weather and good air of Aswan.
It's the best in Egypt, better than Luxor. The air here is wonderful. And it was at the time that people used to take sunbaths at the Cataract Hotel, to cure many things, including kidney disease. They said that the weather cured many things and we know someone, a Dutch man, who was condemned to die because of kidney disease, but came to Aswan, bought a little house and lived for seven years.
During these visits to the hotel, one day my husband said "I`d like to be buried in Aswan."
Just like that?
Yes, But also it was a pure Islamic belief. He used to say "Egypt is the flag of Islam." And he wanted to be buried here. Then we looked around and one day while on the Nile in a felucca with the mudeer (Director), because at that time there was no Muhafez (Governor) the mudeer said "But why do you insist on finding somewhere to be buried? you see that house? it was absolutely closed and neglected. "It is on sale. Why don't you buy it and enjoy your self?" here my husband replied: "But I agree. Provided I have the permission to build a mausoleum behind." And we bought it.
The house belonged to the government, as a convalescence home for ministers and high officials. They never came and preferred to stay in hospitals in Cairo, so President Nasser asked the mudeer to sell it if he could. Originally it was house built by the British, but I 'm not sure who built it.
We enlarged the house, adding a sitting room and two bedrooms and resorted it completely in a very short time. That was in 54. In 55 we could live here, and did. My husband was very ill and was very ill and was able to stay for only three weeks in this house in his whole life, because in 56 he was not well enough to travel to Egypt and in 57 he died.
He put the house entirely in my hands saying: You will choose the mausoleum. The style and everything else do as you like. I want to be buried here as soon as I am dead. He died on the 11th of July 1957 and on the 16th he arrived in Cairo, to what President Nasser ordered to be an official burial, like a head of state. He was buried in the courtyard, and was covered with tent for 16 months, the time it took to build the mausoleum.
Now building the mausoleum was a great task for me. I wasn't sure of which style. But my husband has told me to see one of his friends at the American University, a British professor specializing in Islamic architecture. He took me all over Cairo and finally I made my choice, but if you see what I chose to copy, what inspired me, you may not see a resemblance.
It's the Giushi mosque. It is Fatmid and that is why I chose it, the piece that inspired me the most was the Mihrab. Then the professor recommended to me a young architect, one of his students who was good at Islamic architecture. The man was absolutely wonderful. Wonderful. He was unbelievably wonderful. He looked after every detail from selecting the marble, working out proportions, ect.
And something that maybe nobody knows is that this monument was made entirely by hand. Most of the marble is carved from one piece. It's the only thing, coming from abroad Carara marble, a very special and rare pure kind of Carara. The remainder, granite and sandstone from Aswan.
The Architect is Fareed EI-Shafei?
Fareed EL-Shafei. Years later, I invited him here and he said "I don't believe it is me who had done it." I must mention the contractor who was also wonderful. If you see how everything has been made by hand you really appreciate the contractor, Hassan Dorra. He told me that the mausoleum is a jewel.
I am very proud and at the same time very grateful to my husband who gave me the possibility to realize everything by myself alone, He wanted me to be alone because he had seen the bad experience of many of his friends from India who died in panic and were buried under the great mosque there, and afterwards their relatives would argue for months or years disputing the style and other details.
My husband said "I don't want to spend years waiting to see which of my family will succeed in deciding how to do it. I want to be in Aswan as soon as possible. You do it. "And I did it.
Did he feel that he was going to die soon?
Yes he was ill for a long time, he knew it. And he was such a lover of society, of life. He told me "Don't leave me alone in this desert. Come to see me very often. "When I see all the people, who are visiting him, I think if he knows, if he can see, I don't know he must be very happy.
I saw hundreds of tourists on my way today.
We have about an average of 2500 to 3000 visitors a day. It`s the most visited (monument) in Aswan. It is Fantastic.
Why did you make the mausoleum a public place. Did he wish that?
At the beginning there were no tourist here. Then some friends would pass by asking to see it. I would go up with one of the servants, with a key to show them. Another time, more people would ask to see it. At the time, I never thought it would become like this. then the merchants started to come and finally I was forced to put the fence, then a gate, and apply visiting hours otherwise they were beginning to come right up to the house. They were terrible.
But you know when I said that, that was twenty years ago. It had been closed for a long time but finally I said why not. But I never thought it would be like this.
The whole world passes here, every nationality. I didn't know why I build such a wide passage going up. At the time someone said to me "why are you building it, this wide passage when you are all alone I didn't know.
It is in my opinion, unique in the world. A tomb that gives the possibility to thousands of people to live off of it. If there was no mausoleum, there wouldn't be the feluqas, the shops, the camels and also the property, eight persons taking care of eight families.
My husband wanted a sheikh to recite and Quran everyday from morning to evening, he's been with me for twenty eight years. Sheikh Said Ahmed. Then he must clean, then someone must tell them to take off their shoes, another one tells them "No photos" and another tells them to keep silent, because sometimes these guides make too much noise.
Why no photos?
It is not the tomb of Ramses. It is private, but if someone wants to make the little prayer of El-Fatha on the tomb you cannot refuse. That's another way we had visitors begin to come.
You know I think everything is written in this world. I think everything is written because I never thought that after four years passing in front of this house in a feluqa, one day I would be here. That on this hill will be a mausoleum That I will look after it entirely myself. It is written, I cannot explain otherwise. I was not ready to do that, and I did it.
A long time ago, I used to go to the corner where the merchants now are, in a little boat with a friend, We would sit in the middle of the night, for hours painting the reflections of this large golden-brown sand dune. I never thought that one day, The place was so beautiful, and I say was, because human beings are slowly destroying many lovely things It`s a pity.
In my opinion, this is the most beautiful place on the Nile.
Do you still have these paintings?
No unfortunately, I can not see I am losing my sight. But I used to sculpt. You will see my sculptures around the house. Like thus bust of my father, which is very life-like and this bust of a Nubian boy who must be forty by now I taught myself to sculpt.
I'm very sorry, because I'm very talkative. I haven't given you the chance to ask many questions, but I think, I'm sure, I'm answering before you ask me many things.
You are your Highness, Do you mind if I ask how you met your late husband?
I met him while visiting Egypt, at the French and British Embassies in Cairo. I was visiting Egypt with my family, but also I met him again in South of France.
What is the story of your selling flowers?
There is a story, but not of selling flowers. A lovely story. My husband was a great reader. He was always reading and always, he had near him an ordinary glass with one rose. Every so often he would take the rose in his hand, smell it and say Ahhh. Wonderful, wonderful. You know in Iran "La rose" has no name, it is called the flower.
There is a daily habit of putting he flower in the mausoleum on his tomb. But now I cannot go everyday, because I must be accompanied. I am now dependent, and no more independent. I cannot read, write or read what I have written. This is life, I am not complaining, but it is hard. Very hard. I cannot go for a promenade with my dog. I must have someone with me. C'est comme ca.
But I was not a florist, I was a dressmaker and so was my mother, before I was married.
But it is true that you won a beauty contest?
Yes, that was in 1930. But never a flower girl It's a story that belongs more to one of Charlie Chaplin's films. The blind flower girl.
What do you do all winter?
The same. As I told you I am dependent. There are so many things to take care of around the house. But I must change, because I have had an operation in September and have lost sight in one of my eyes. It changed my way of living. I used to drive, to go. Everything is different now. I am not complaining. I just pray God to leave me what remains, as it is. You know, I cannot see your face.
You Can't see my face?
Yes, Perhaps if you are a little bit nearer. If you are nearer I might see black. I don't know why, I can see other parts of you but not your face. I have a friend of mine who is 98 and has the same thing. It's an age related disease. He asked me if I see faces and I said "No" and he replied "Me too"
Your mean you can see other things?
I can see these roses, But not your face. If I look above your face I can see you, the same with television. It has to do with retinas in the centre that are destroyed.
Some people say that your story is the greatest love story?
Well you know, I love Aswan but it's because of my husband and the mausoleum that I am here....
Do you feel his presence?
Oh yes. He is always with me, He doesn't leave me. I am thinking of him all the time. As long as you live and you are thinking of someone he is alive. When you die, he will die. Because he is in me, he lives with me. Now it's 35 years (since his death) and I am very grateful that he left me the possibility to build this mausoleum. I am very proud.
Please, I insist that you mention the contractor Hassan Dorra. Wonderful. He's even now doing something. In front of the mausoleum, slowly, with the wind, some stones are uncovered and this could be dangerous for the guests. So I asked him to do something so the visitors will not be wounded. It's duty for me I should do it.
Some people call this house Noor El-Salam?
It is me. Because Noor for me is the light. Noor El-Salam is a wonderful light, it's what this house is for me. The house in Cannes is called after my initials and love, Yakimour. The people call me Om Habiba, but they also call me Yaki. I was called Yvonne Agha Khan, YAK. And I put an i to make it sound better then you have amour. Yakimour.
Why are you called Om Habiba?
I think my husband called me that. He said it's the name of the last wife of the prophet.
You do a lot of charity work in Aswan like......?
I don't call it charity. I call it help.
What's the difference?
Charity for me is like giving to a beggar on the street, who needs to eat. You know, Egyptians I love Egyptians, they are sweet and ever so kind. For instance, I know that here most of the people dealing with tourists seldom speak English, I thought of buying computers for the language institute here, for the people to learn English. I don't call it charity. It is help. I think you 'll agree with me.
And you helped schools?
Yes, the school had all its windows open to the south, and in summer they cannot breathe. I bought them fans. I don't give money, I buy what they need. It is a help. Once, all the children from the schools came to dance with me. They wanted to have costumes to dance. It was so sweet. You think this is charity?
It is help, because I am pleased to buy them what they cannot buy If I see any need I do it. I am also helping to do kindergarten on Elephantine island for mothers working in town. I give money but I always look at the bill. Also there will be a mosque and a ceremonial hall.
I am sorry if I used the work charity.
But you are right, everyone writes that I am charitable. Charity is something else. This is a poor country, but not miserable. You see how the people celebrate the feast. The people are poor, but they are happy. In Europe, I don't think we are happy, and we are much more helped by the government. The people are always asking for more. And they are never happy.
What is love?
Love is what I'm doing. I am here because I wish and love to be here.