Welcome to F.I.E.L.D.- the First Ismaili Electronic Library and Database.
Aga Khan Ismaili Muslims share Idd with 800 orphans
Posted August 15th, 2019 by librarian-hd
Date:
Thursday, 2019, August 15
Source:
Daily Monitor, Uganda www.monitor.co.ug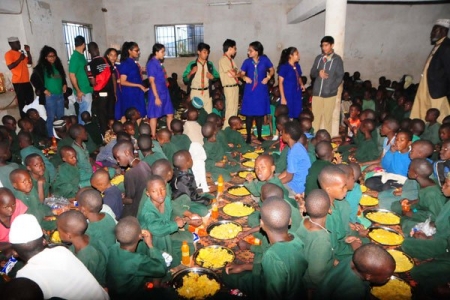 By STEPHEN OTAGE
Kasangati Orphans Fund Society (KOFS) has said continuing food donations received from the Shai Ismaili Muslim community, who are the followers of His Highness the Aga Khan, has enabled them to feed 800 orphans under their care.
Located in Kawanda, Wakiso District, the orphanage is called Kasangati because it started from there with few children but later relocated to near Kawanda following an increase in the number of orphans sheltering at the orphanage.
According to Sheikh Sulaiman Kiberu, they survive on donations from good-willed people such as the Ismaili Muslims, who occasionally make contributions towards maintenance of the orphanage, and require Shs500m a year to feed the children at the facility, combining a school and Mosque.
According to Mr Minaz Jamal, the president of Shia Ismaili National Council for Uganda, volunteerism and service to society are integral part of the Ismaili Muslim tradition.
Ismaili tradition
These, he said, present opportunities for giving resources and time to significantly improve the communities within which the members live and inculcate in young Muslims the importance of upholding the Ismaili Muslim tradition of volunteerism.
"Idd is an occasion for performance of good deeds, including charitable giving and voluntary service, through personal sacrifices. This is a time of inclusion, sharing, giving and it is, therefore, important to reflect on this common humanity and the spirit of selfless sacrifice," Mr Jamal said.
He added that the Idd festival is a commemoration of the greatest trials of Prophet Abraham whose example is a reminder of the kindness and compassion of the prophets and at the heart of the Abrahamic tradition is an emphasis on our common humanity and ethical heritage, which is shared among Muslims, Christians and Jews alike.
In an interview on Saturday, Sheikh Kiberu also praised Daily Monitor for exposing their plight, which has attracted new sponsors and donors.
"After Daily Monitor published the story of the Iftar on the eve of Ramadan, we received food donations from the Turkish community to run for the whole year. We also subsequently received support from Mukwano Group, and we thank the Daily Monitor for this," he said.
The Shia Ismaili Muslim community at the weekend donated food, drinks and biscuits to the orphanage for Idd-ul-Aduha celebrations. KOFS orphanage receives children from as far as Sudan and has been dependent on well-wishers' support.