Welcome to F.I.E.L.D.- the First Ismaili Electronic Library and Database.
Uplift of Chitral: AKDN's contribution lauded
Posted May 2nd, 2019 by librarian-hd
Date:
Thursday, 2019, May 2
Source:
fp.brecorder.com Business Recorder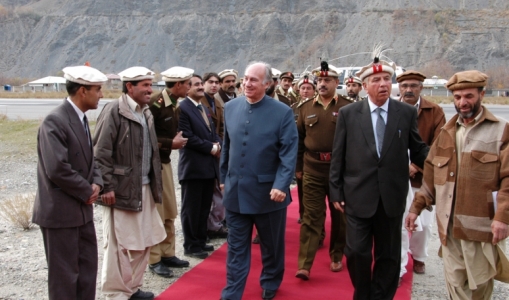 Pakistan Tehreek-e-Insaf Senator Samina Saeed has said that the contribution of Aga Khan Development Network (AKDN) in health, education and social development sectors for the backward district of Chitral are second to none.
Speaking on a report of Senate Functional Committee, which was presented in the house after visiting the district, she said that AKDN has done wonders in an area, which was always ignored by respective governments in the past.
"Chitral district never attracted any government [in the past]. No development work was undertaken due to which the area left behind compared to other parts of the country. In such a situation, there came the AKDN which changed the destiny of the people altogether," she added.
She said that the way AKDN is helping people - irrespective of their religious and political affiliations - is commendable as it working in health, education, microfinance, culture and other development sectors to uplift the life standard of poor people.
She said that the invaluable services rendered by the successive generations of Aga Khan family both during the struggle for independence and also after the creation of Pakistan were a testimony to their commitment, love for and faith in Pakistan.
"His Highness Prince Karim Aga Khan's contributions in the field of education, tourism and health sectors in the backward district have completely changed the future of the people of Chitral," she maintained.
"You will be surprised to see a Chitrali girl studying at local school run by Aga Khan Education Service talking to you in fluent English...the Aga Khan Foundation is doing a wonderful job for the community in the area without any discrimination," she added.
About forced conversion of Kalsh people - a pagan community known for their fair skin that has long inhabited chitral district near the border with Afghanistan - she said if the people of Kalash are facing threats, it is from the local hardliners who are bent upon to convert them under one pretext or another.
She said that no government in the past paid any heed to the plights of Kalash except the incumbent government. "On my recommendation, for the first time in history of the country, a Kalash man [Wazirzada] was elected an MPA on seats reserved for minorities. The same Kalash MPA is now chairman of the District Development Advisory Committee (DDAC) of Chitral", she added.
Copyright Business Recorder