Welcome to F.I.E.L.D.- the First Ismaili Electronic Library and Database.
WCLA organises session to study Lahore Fort's picture wall with experts from Aga Khan Trust for Culture (AKTC)
Posted April 9th, 2019 by librarian-hd
Date:
Tuesday, 2019, April 9
Source:
www.pakistantoday.com.pk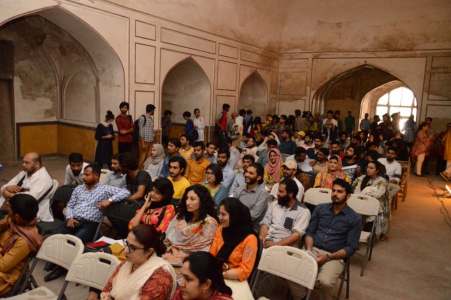 LAHORE: The Walled City of Lahore Authority (WCLA) on Tuesday organised another session of 'Meet the Expert' during which conservationists and architects briefed participants on conservation methodologies of the picture wall of Lahore Fort that also happens to be the world's largest picture wall, Pakistan Today has learnt.
WCLA had invited students and faculty members from all universities of Lahore which have architecture, history, fine arts and social sciences departments. Almost 200 participants were present in the session which was held here at the summer palace of Lahore Fort.
The participants were briefed by experts from Aga Khan Trust for Culture (AKTC) and WCLA and were given a detailed lecture on the methodologies of conservation, fresco, tile mosaic and plaster. The participants were also informed how the western part of the picture wall was conserved and how the walls documentation was done in 2015 and 2016. Later, they were also given a tour of the picture wall.
AKTC Conservation and Design Manager Wajahat Ali explained the embellishment of the wall, materials used and methodologies. "The conserved part of picture wall is 350 feet long in length and 50 feet high on average whereas it consists of 635 decorated recessed panels composed on three levels. It is one of the most sensitive and vital projects of conservation undertaken by WCLA in partnership with AKCSP. The Picture Wall imagery includes humans, animals, birds, plants, flowers and geometric patterns along with imaginary creatures. It was one of the main reasons for the Lahore Fort to be listed as the world heritage site by UNESCO in 1981" he said.
"The sequence of developments during the different reigns is visible in the progressive variations in the iconography of the picture wall's tile decorations. The tile decorations which are of the ate Akbari Period have floral motifs, during Jahangir's rule the tilt-shifted to human and animal figures and later in Shah Jahan's reign the scale and iconography of the picture wall became evidently improved and flamboyant both in the description and ornamental styles," he further added.
"A key feature of the picture wall is the widespread use of glazed tile mosaic work. The use of this form of surface decoration within Pakistan predates the Mughal era. All these decorative features have been creatively conserved keeping in view the International practices of conservation," Wajahat explained.
A student of architecture Salman Saeed said, "I had been to fort several times but the way I looked at the picture wall today totally changed my perceptions about it. It is no doubt a beautiful wall and I am glad that it is conserved. This session has helped me gain a lot of useful information".
Another student of architecture Faiza Raheem said, "I have been attending all sessions held by WCLA and I think it is the best initiatives taken by any government organisation to educate the students. Previously, we never had the opportunity to study the conservation projects and I had hardly heard of any in Lahore but since 2015, I am observing that WCLA is conserving the monuments. This is a landmark project and another feather in their hat".
WLCA Director-General Kamran Lashari commented that the wall was a masterpiece of Lahore Fort which has been conserved with great effort and care.
"We have taken up this initiative so that students can be involved in conservation projects of WCLA and meet on-ground experts working on these projects. This will increase their interest in the field of conservation and they would also get to know about Lahore's heritage", Lashari concluded.