Welcome to F.I.E.L.D.- the First Ismaili Electronic Library and Database.
Press Interview in Iran 1959-11-01
Posted January 1st, 2019 by librarian-hd
Date:
Sunday, 1959, November 1
Source:
Speeches Book II (pg 5 – 7) 1958-1963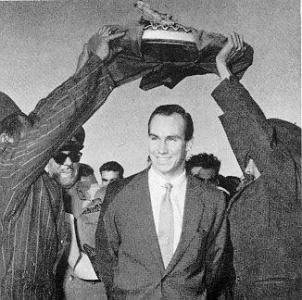 Press Interview in Iran
November 1st , 1959
Source: Speeches II (pg 5 – 7)
His Royal Highness Prince Karim Aga Khan Imam-e-Zaman, visited Iran on 24-10-59. During the ten days stay, he went to Tehran, Isfahan, Birjand and Shiraz and met thousands of Ismailis who had come to these places from every nook and corner of Iran. This was his first visit to this land where his ancestors lived for about 750 years from the beginning of the 12th century to the middle of the 19th century. His Royal Highness has ancient connections with Iran. His great-great grandfather Imam Shah Hassanali Shah Aga Khan I was the son-in-law of the famous King of Iran Fatehali Shah. During this visit, more than once, the present ShahinShah and his His Royal Highness met and talked for long.
On 1st November, there took place a Press Conference at the Officers Club where press reporters asked questions to which His Royal Highness was pleased to answer.
The first question was about the Capital Investment to which His Royal Highness answered: "I could not decide and come to any conclusion during my ten days stay in Iran. But I have considered the possibility of two kinds of Capital Investment in Iran. One is personal and the other is for the purpose of helping the Ismailis in Iran. Of course, I will examine the possibility of more Capital Investment in future and shall decide about it."
The other question put to him was about the Ismailis' state of living in Iran to which His Royal Highness answered: "Most of them are farmers and craftsmen for whose welfare some steps must be taken. The government has done much work and I hope to give the necessary assistance which is possible for me. The number of Ismailis in Iran is about forty thousand."
Answering another reporter, His Royal Highness said : "I am, like my grandfather and ancestors, citizen of Iran."
A reporter asked as to how Prince Aly Khan who too was an Iranian but was the Pakistan's permanent representative in United Nations Organizations? His Royal Highness answered: "I have never had any opportunity to inquire this matter from my father personally. I am mostly on travel and get no time and little chance of visiting my father."
In reply to a reporter about his private life, His Royal Highness said: "that he had obtained his diploma in Geneva and then went to America for higher study. The branch of his study was History and Philosophy. He said he had great interest in ski and tennis but was not a horseman. "Contrary to my Grandfather and father's interests, I have no interest in horse races."
A reporter asked him about the probability of his marriage with an Iranian girl. He replied that he had not confronted so far any Iranian girl in Iran or abroad. "I discount the news of my marriage with an Iranian girl that has been published by a French magazine. This news emanate merely from the fantastic ideas of magazine. I shall announce such a decision personally." His Royal Highness declared.
His Royal Highness told pressmen that he had witnessed with his own eyes the Iranian peoples' feelings on the birthday of His Imperial Majesty and praised these high feelings. "We must feel very happy that His Imperial Majesty is so much beloved among the Iranian people." Concerning the possibility of his presence at the Shahinshah's marriage, he said: "On the occasion of the wedding of His Imperial Majesty with Queen Sorraya, my grandfather had come to Tehran. I have no information about the date of the Shah's marriage yet, but of course I shall be glad, if I can take part in it."
He then said that he is going from Tehran to Switzerland and afterwards to America. He explained that so far, he had visited Syria, Zanzibar, Egypt, Somalia, Lebanon and many other countries where the followers of the Ismaili sect are staying and he must visit the other countries too.
Ending his Press Conference, His Royal Highness Prince Karim Aga Khan said he had given £50,000 (fifty thousand pounds) that is, about 10 million Rials to the Tehran University so that they may construct a building for the residence of the students who come from the interior of provinces to Tehran for study, and to spend the remaining amount for giving scholarships to these students. "Meanwhile, I shall give an annual sum of £2000 – two thousand pounds to the Red Lion and Sun Society of Iran in the coming five years. When I graduated from Harvard University, I created 40 scholarships under the supervision of the President of Harvard University for the benefit of Muslim students who desire to study in this University.
The Iranian students can also take advantage of this scholarship. The scholarship shall begin early in the academic year and the students can study in any branch they may choose."