Welcome to F.I.E.L.D.- the First Ismaili Electronic Library and Database.
Speech by His Highness the Aga Khan at the Opening ceremony of Wandegeya Mosque, Kampala 1959-09-17
Posted December 28th, 2018 by librarian-hd
Date:
Thursday, 1959, September 17
Source:
Speeches Book II pages 1-4 published by Ismailia Associations for Africa 1964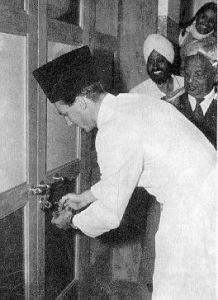 September 17, 1959
Kampala, Uganda
(Opening of Mosque at Wandegeya –outskirts of Kampala, East Africa)
(Somalis with beaded head-dresses, Arabs and Swahili Shaikhs in their long flowing gowns, Africans wearing red fez, Ismaili Muslims in golden turbans, were part of the large gathering of all races which on 17-9-1959 saw His Royal Highness Prince Karim Aga Khan open the new mosque at Wandegeya on the outskirts of Kampala, (Uganda in East Africa)
His Royal Highness Prince Karim Aga Khan began by referring to the tremendous progress made in modern science and said that as Uganda progresses towards independence, as indeed she must, she will inevitably draw closer and closer to the scientific revolution.
"No country can afford to ignore these developments, and that is why even countries such as India, Pakistan and the United Arab Republic, which are not directly interested in atomic armament, have had to set up bodies to consider these new forces.
Uganda will have to compete with other technically advanced States, she must be in a position and benefit from the new discoveries. Her boys must receive the technical training which would enable them to use the new sources of energy, the new fuels and chemicals, which will be part of the modern world's industries.
Anything which slows up the country's educational programme, from lack of capital or through a fall in ordinary revenue, must be a brake on the country's development and a direct loss to the nation's children who have so many opportunities ahead of them.
The question which the landing on the moon has raised is what laws are to regulate man's behaviour in space or in the outer worlds? It seems at present as if his technical discoveries have quite out spaced his ability to regulate his own life and his power to live peacefully with fellow men. Two years hence, when I came here, I talked about sputniks going in space, and now, the Russians have landed on the Moon, perhaps this is the anniversary celebration of my arrival here.
Mankind must look towards these new and almost limitless boundaries as a single brotherhood, which is united by a number of basic principles.
The question which faces us all is how are we to determine these basic principles? We Muslims will always find our inspiration in Islam. Beyond this we must strive for the tolerance of thought, the respect for men, whatever their race or creed, which is the base of nearly all the great religions of this world.
As spiritual leader of the Ismailis, I have neither the wish nor the means to dabble in politics. Twenty million of my community are scattered throughout the world living peaceably and quietly beneath the flags of many nations. The only political advice I shall ever offer to them is that they should remain absolutely loyal to the countries of their adoption, to work not simply for themselves, but for the welfare of their nation as a whole.
As Imam of the Ismailis, you must know, that I would never say anything affecting their welfare if I did not also believe it to be in the interests of Uganda as a whole and of all the people who live here. I speak as one who has a sincere belief that this country has a great future before it; a future under African leadership in which Uganda could become one of the most prosperous and progressive States in this Continent.
And yet, for the moment, peace and progress seem to have slowed down. No doubt there are a variety of explanations for this. Some of them are purely internal problems on which it is not my business to comment. Many people are saying that it is the disturbances which are the root of the trouble. This, I know, is a contentious subject about which there are a variety of conflicting views. Of its political and economic implications I shall not speak – I think the arguments for and against it have been set out often enough already.
Politics and economics are certainly important, but it is about the field of human relations that I am most concerned. This, after all, is a very small country in a vast Continent which is itself only a fraction of the wider world outside. The wonders of modern science to which I have already referred, the amazing speed of travel, the incessant flow of ideas and information through the Press, radio and television, the gradual conquest of disease and poverty – these are only a few of the birthrights of the new nations and which were never possessed by the old. But of what use are these advantages if the young countries who inherit them cannot also show the way to solving man's most ancient and besetting problem – to live at peace with his neighbour?
Some of these will always remain, because, it is an integral part of the Ismaili faith. But in other fields, health and education for example, there is an increasing tendency to break away from the old, rigid pattern of separate racial development. A complete break cannot occur overnight, but it is going on all the time.
I have said on many occasions that my community does, and I hope they always will, treat this land as their home. I reiterate this statement, for I wish it to be known and fully understood. The Ismailis of this country owe allegiance only to Uganda and when at some future date, ultimate authority is transferred by the Protecting Power to an African majority and so long as the Ismailis enjoy the rights of every citizen, I can pledge that they will give the same loyalty and support to an independent Government as they do to the present one."
(source: Speeches of Mowlana Hazar Imam Part II (!958-1963) Published by Shia Imami Ismailia Associations for Africa 1964)