Welcome to F.I.E.L.D.- the First Ismaili Electronic Library and Database.
Uganda: Govt Hails Planned Aga Khan Hospital Projec
Posted February 14th, 2018 by librarian-hd
Date:
Tuesday, 2018, February 13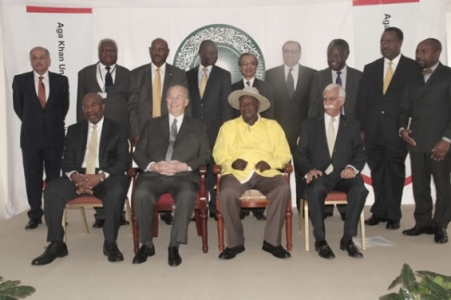 Kampala — The Minister of Health, Dr Jane Aceng, has described the upcoming establishment of an ultra-modern Aga Khan University Hospital in Kampala as a "landmark" on Uganda's healthcare system.
The construction process of the teaching hospital was initiated by His Highness, the Aga Khan, and President Museveni in December 2015 with an aim of offering specialised treatment to Ugandans and patients from neighbouring countries.
While presiding over the 2018 Aga Khan University graduation ceremony at Kampala Serena Hotel at the weekend, Dr Aceng said the services from the hospital will make a difference in people's lives as the country is on course to achieve Vision 2040.
"Vision 2040 asks us to be ambitious not just for ourselves, but for our communities and our country. I know that His Highness, the Aga Khan, shares this vision, and I would like to take this opportunity to thank him for all that he and Aga Khan Development Network are doing in Uganda," Dr Aceng said.
"The establishment of a new Aga Khan University Hospital here in Kampala will be a landmark in the history of healthcare in Uganda," she added.
The minister urged students going through the university hospital to play a "critical role" in realising the vision of Uganda because the country needs their commitment to service and empower others through sharing knowledge.
Dr Aceng also asked the graduands to set high standards in service so that they are able to examine problems they will be addressing in their careers because they are intertwined with issues in other spheres.
"As a nurse or midwife, you will find that lack of education increases the risks faced by pregnant women and their babies. In such cases, you will have no alternative but to pursue interdisciplinary collaboration. If you remain confined to your area of expertise, your impact will be limited," she said.
"Return to your jobs and make common cause with leaders in other fields and ask how to multiply your impact through collaboration," she added.
A total of 103 students were awarded masters degrees, bachelor degrees and diplomas in education, Midwifery and general nursing.
Adding; "those of you who are nurses and midwives will be asked to ensure that more women give birth safely and that children grow up healthy. To all of you, go and respond to the growing burden of non-communicable diseases such as heart disease, cancer and diabetes," He said.
He also highlighted the efforts that AKU has taken to improve the lives of Ugandans in partnership with the government hence pointing out the new Aga Khan University Hospital to be built in Kampala.
"An outstanding example of our efforts to complement government's efforts in serving the public is the new Aga Khan University Hospital that will be built in Kampala. This is the largest project the University has ever undertaken in Uganda. The University Hospital will be a transformational force in Uganda's healthcare," Mr Rasul said amid applauses from the crowd.
Speaking on behalf of the graduands, Ms Irene Atim promised that she and her colleagues were set to become "transformative leaders and AKU ambassadors" as they execute their various mandates in the work places.
"We will never relent and we will persevere in every situation coming ahead because we have been given the best skills to transform lives in the disadvantaged communities of Uganda," Ms Atim said.
Graduands tipped
The president of Aga Khan University, Uganda, Mr Firoz Rasul, challenged the graduands to use the attained skills and knowledge to provide contextual solutions to challenges that face the society. He said the country needs such highly trained specialists to provide solutions. "Uganda needs you to provide transformative leadership to guide her through providing solutions to her problems that enhance social and economic development of her people," Mr Rasul said.