Welcome to F.I.E.L.D.- the First Ismaili Electronic Library and Database.
Speech by Mawlana Hazar Imam at the Tanzania Jamati Institutional Dinner 2011-07-07
Posted September 28th, 2016 by librarian-hd
Date:
Thursday, 2011, July 7
Source:
Video - theismaili.org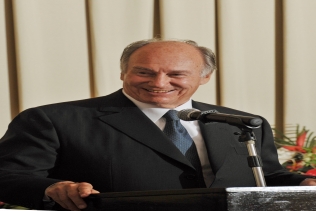 Speech by Hazar Imam at the Institutional Dinner in Dar-es-Salaam, Tanzania
July 7, 2011
I would like to begin by telling you how immensely happy I am to be back in Tanzania and to be able to say to My Jamati leaders here and elsewhere that, Inshallah, in the months ahead, the years ahead, I will be able to visit the Jamat more often than I have in the past.
And I want to tell you how much I enjoyed the wonderful dancing that was shown. I also want to thank you for the most, lovely gift that you have given Me. These gifts are very meaningful. They are chosen with care and they are chosen in such a way that they know that they will please Me.
And I am extremely grateful to the leadership in Tanzania, past and present, because I see past leaders here amongst you. Past and present for the wonderful work that you have done. And although there will be ups and downs, as there are even today in various countries where the Jamat is living. We will work our way through these issues and continue on the track, on the course of building a better future for our younger generations.
I have had a wonderful evening. Thank you
(During the evening, President Aitmadi Jehangir Bhaloo presented Mawlana Hazar Imam with a gift of a calligraphic panel from Qajar Persia dated AH 1275.)