Welcome to F.I.E.L.D.- the First Ismaili Electronic Library and Database.
Tanzania: Minister Unveils Phase II of Aga Khan Hospital in Dar 2016-08-24
Posted August 24th, 2016 by librarian-hd
Date:
Wednesday, 2016, August 24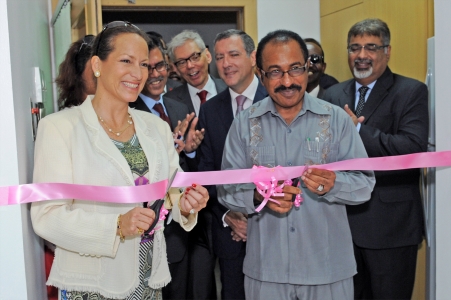 Dar es Salaam — The minister for Health, Community Development, Gender, Elderly and Children, Ms Ummy Mwalimu, and Princess Zahra Aga Khan yesterday launched the second Phase of the Aga Khan Hospital construction.
The health facility will be built at the cost of Sh167 billion in which the French Development Bank has provided concessionary long term financing of Sh112 billion while Sh55 billion is a grant from the Aga Khan Development Network (AKDN).
The new building will take 170 hospital beds.
Ms Mwalimu said the government has been spending millions of money for treatment abroad. She said there was a need to get away from this burden.
The minister commended Aga Khan Hospital for accreditation of good quality by the Joint Commission International (JCI).
JCI is a non-profit organisation dedicated to continuously improving, providing and sustaining safety and good quality medical services. The accreditation means that the Aga Khan Hospital achieved a level of quality and patient service that is equal to the best hospitals in the world.
In Africa, there are nine such health facilities and Aga Khan Hospital is the first hospital in Tanzania to achieve JCI accreditation.
For her part, the chair of the executive committee of the board of Aga Khan health services, Princess Zahra Aga Khan , said the facility aims at expanding medical care in Tanzania at this time when non-communicable diseases are on the rise.
"We are extremely proud of having a Hospital in Tanzania that meets international standards. Congratulations for the authorisation," said Ms Mwalimu.
The health minister asked the Aga Khan Foundation to plan for another quality health facility in Dodoma. She said the government was ready to provide support for the strategy.